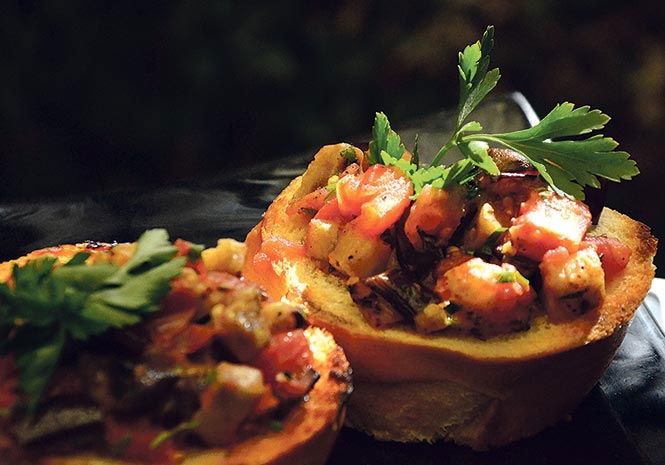 WITHIN seconds of taking my first drinks in a Spanish bar I became emotionally linked with that wonderful Spanish habit of receiving tapas served with each drink. 
Even more, as I drank my way around the neighbourhood I became introduced to each bar and their quality of care for the visiting buyers. Of course some tapas were simple, like a small plate of crisps next to your wine but others were more elaborate and cooked with care and honour.  
It wasn't long before the ingenious delectables ruled each outing and I travelled further each day to discover more wonders of Spanish cooking.
In truth there is nothing better than arriving in a new town and heading for their best tapas places to wash the dryness from your mouth and a nibble at something. Once you establish your base camp you are free to learn about the new village and what makes it tick. 
Eat often enough there and you become family peeve to all the inner secrets and village happenings. 
Of course, none of this happens if the food isn't good. Tapas rule for the locals and visitors alike.
Unfortunately, the ageless custom of serving up tapas to the public has much fallen away with the advent of the fast food fix. Now, one usually has to travel afar to find these delicacies. 
On the beach of Mojacar there is only one place, Egea's. 
With the advent of a new establishment in the village, Viento Norte we have doubled up. The old Spanish custom has doubled in value for the local Mojaqueros and is coming back stronger than ever with other bars promising to open for Easter. 
We could well prosper from a new gastronomy renaissance for the promising influx of tourists coming this year. Something for the local establishments to do to keep pace with the surrounding clean-up of the streets and flowering of plants. 
Mojacar is most noticeable and deserves special recognition. We don't need more pizza houses! 
Problem is, in the old days the local proverbial family bar had grandmothers in the wings baby-sitting the younger children and filling their spare time preparing those unique treats that truly take so much time to make. 
I like the idea of making Mojacar one of the gourmet capitals of southern Spain. We would need more grandmothers (abuelos) in waiting. Nevertheless, the new travellers are much more discerning than those tourists long before.