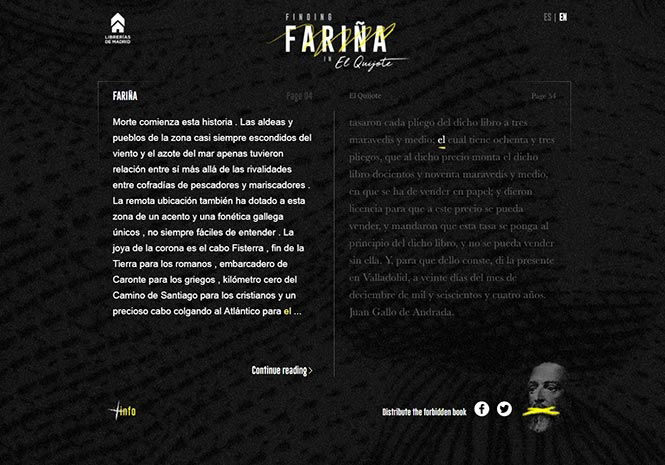 A WEBSITE has been created which allows visitors to read a banned book about drug smuggling through the words of Don Quixote.
Fariña, a non-fiction work about cocaine being shipped from Columbia to Spain, was banned by a court in Madrid last week.
Sales of the book were stopped after Jose Alfredo Bea Gondar, the former mayor of O Grove in Galicia, brought libel proceedings against the publishers.
The Booksellers Guild of Madrid has since made a site which searches through the text of Don Quixote to recreate the banned book word by word.
The website had more than 30,000 hits as of Friday after being online for two days, according to the Booksellers Guild.
Fernando Valverde, the secretary of the guild, said those behind the site found out all the words in Fariña were in Don Quixote in some form.
Those who made the site just had to find out a way of placing the words in the same order as the book and displaying it so people could read it.
"It's a metaphor for the fact that in the digital era you can seize a book, but you cannot gag words," he said.
Bea Gondar brought the case to the court because the book alleges he was involved in the unloading and shipment of cocaine. It also alleged he took part in negotiations between the Columbian Cali cartel and local smugglers.
"It's all completely false," Bea Gondar said in an interview on the La Sexta television channel.
The former mayor was investigated and convicted of drug smuggling. His sentence was subsequently overturned by the Spanish Supreme Court after an appeal, which is stated in the newest edition of Fariña.
The launch of the website comes as Amnesty International recently claimed free expression in Spain was being stifled by the country's legal code.