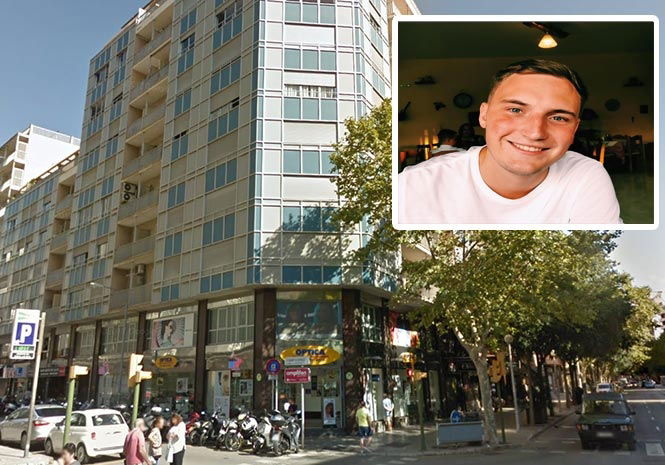 THE young British man who fell to his death from a Palma de Mallorca balcony has been named.
James Walton, 23, was on a placement year from Sheffield Hallam University and was killed after a St. Patrick's Day party with friends.
Doctors say the language student died due to fatal head injuries after plummeting from a fourth floor balcony onto the pavement below.
Originally from Ealing in London, he had been in Mallorca since last September to work as a global loyalty intern at Melia Hotels International.
The placement was part of his Bachelor's degree in Languages with International Business, of which he was in his third year.
Detectives currently believe that he lost his balance after a heavy drinking session with workmates and friends visiting from the UK.
A post mortem examination took place yesterday.
James' body was found lying on calle Aragon in Palma city centre by a pedestrian early on Sunday morning.
Medics pronounced him dead at the scene after attempts to revive him failed.
His friends reportedly had no idea that he had fallen until police knocked on the door of their flat.
Investigators are not currently treating the incident as suspicious, and an official confirmed: "At this point in time everything is pointing towards it being accidental."
Friends have paid tribute to him via Facebook, with Melia colleague Maja Jaroszewska writing:
"Words can't describe how heartbroken we feel to have lost you so soon and so unexpected.
"You are forever in our hearts. We will remember you, doing your amazing dance moves and winning dance offs with strangers.
"Thank you for being in my life."
A Foreign Office official told UK media: "We are in touch with local police and are providing bereavement advice to his family, following the death of a British man in Mallorca."