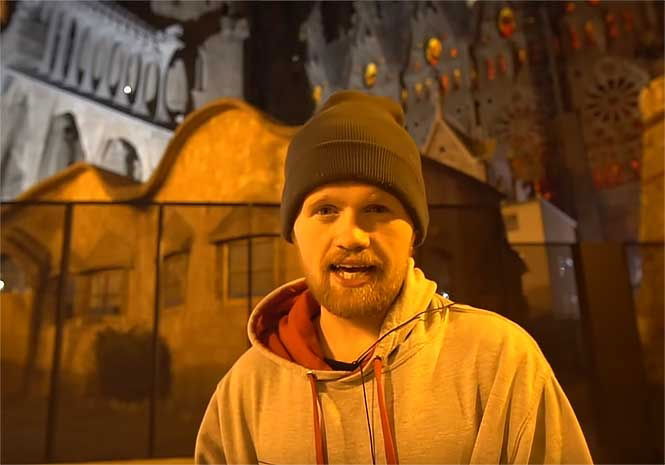 A YOUTUBE dare-devil with more than 770,000 subscribers has failed in his attempt to free-climb Barcelona's Sagrada Familia after being spotted by security guards.
Despite the botched attempt, Ally Law's video has received half-a-million views on his channel in just five days. The (video) below does contain strong language and should not be watched if you suffer from vertigo.
The 21-year-old from Southampton has climbed in multiple locations around the world, such as Melbourne, Dubai,  Bangkok and Blackpool but his latest attempt in Spain could see him fined or even banned from the country as security forces launch an investigation.
The climbing attempt group were in the grounds of the Sagrada Familia for nine minutes until they were spotted scaling an external lift and forced to abort their climb to avoid arrest.
But, even after being spotted, they managed to outrun security guards and got away without being caught. 
Police have launched an investigation as to how the group breached security as Spain and its key landmarks are on Level 4 (out of 5) security threat.
The Sagrada Familia's head of security admitted the speed of reaction of the security guards was not sufficient and said security measures were now being reviewed.
A spokesman for the regional police force, the  Mossos d'Esquadra, said, "We have opened an investigation to identify these youngsters."
And Ally Law has also come in for criticism on his YouTube channel.
One, Juanjo, said, "Committing crimes is not funny. I know that it might be cool for you climbing around like monkeys but you should realise that Sagrada Familia has been threatened by Islamic terrorists, so the situation is not cool at all.
"You will have problems with the law for sure, so keep away from Spain and cross fingers that Catalan police do not contact the police of your country in order to get you all, because your video is a proof of having committed a serious crime."
Another, Carlos Gómez Pazos, was even less impressed writing, "So what was this bs? Being there for less than five minutes and then hiding for another five-ten minutes? This is, by far, the stupidest thing I've seen, and the worst video for a long time.
"You say you climbed the Sagrada Familia? You crossed a fence, climbed a bit, hide like rats and then just run away because you realised your plan was bs.
WARNING: Strong language
And a note from the YouTube channel: You are hereby notified that the stunts and tricks displayed in this video are performed by professionals. Do not attempt to duplicate, re-create, or perform the same or similar stunts and tricks at home, as personal injury or property damage may result. The producer of this video is not responsible for any such injury or damage.