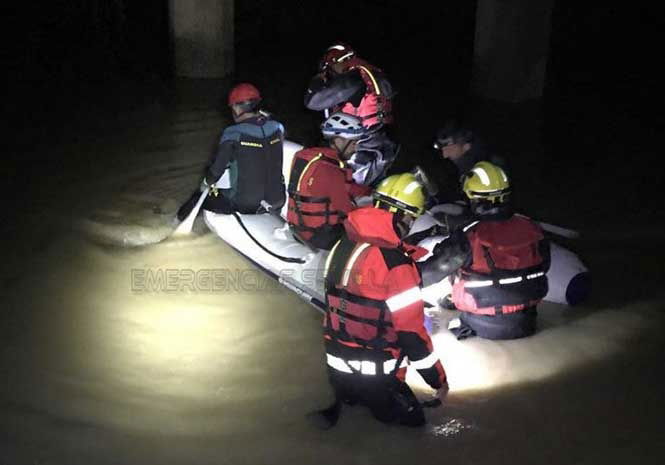 MORE than 200 people have today (Monday) resumed the search for the missing Guardia Civil officer who was swept away by flood waters while performing a rescue on Saturday night.
The officer had bravely gone to the aid of a motorist who had become trapped after heavy rains flooded the area near Guillena in the province of Sevilla, Andalucia in the south of Spain.
Guardia Civil colleagues, firefighters, Local Police, National Police, Infoca and the Emergency Group of Andalucia (GREA) have so far searched a nine-kilometre stretch of the swollen stream where the officer was swept away by strong currents.
Diego Diaz, aged 53, from Malaga had gone to the aid of a couple near the Galapagar stream when he fell to the water and his colleagues lost sight of him.
A 112 Andalucia spokesman Antonio said search parties were searching the water and shore and also from the air.
Spain's Interior Minister Juan Ignacio Zoido went to Guillena yesterday to oversee the search.
President of the Junta de Andalucia, Susana Diaz, also visited the command post.
She asked that prudence should be exercised to avoid events such as those that occurred in Martos where a motorcyclist was swept to his death, and Grazalema's Garganta Verde where three people had to be rescued.
She said, " People should avoid doing practices that endanger the individual security of each one and that of those who protect us".
Buena noticia: han encontrado a los barranquistas desaparecidos en la zona de #Grazalema y ya están a salvo. Muy orgullosos de nuestros equipos de rescate. Una noticia positiva en este día tan duro y difícil. pic.twitter.com/ntzGcW4AQw

— Susana Díaz Pacheco (@susanadiaz) March 18, 2018