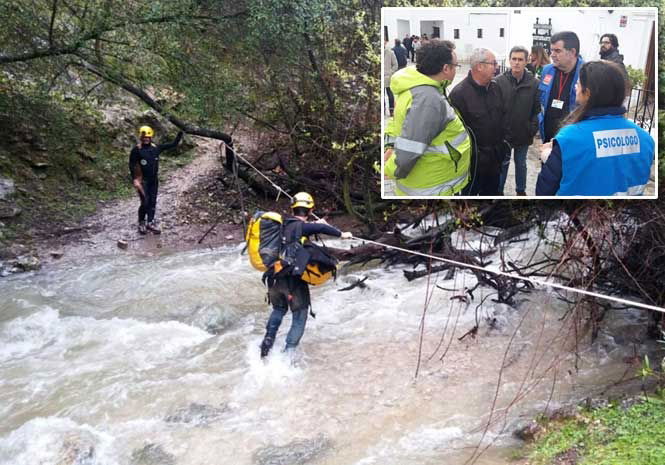 SPECIALISTS in canyoning and hard-to-reach spaces are searching for two people missing in the Garganta Verde in the Sierra de Grazalema Natural Park in Spain just a day after a Brit was rescued.
A 51-year-old British walker from Algodonales was rescued from the protected gorge in Andalucia, which can only be accessed by permit-holders, in the early hours of Saturday morning – trapped on a ledge, clearly scared and suffering mild hypothermia.
And today a new search has been launched for another two people, from Chiclana, also reported missing in the same area.
Guardia Civil officers have confirmed that their vehicle has been located at the entrance to the Garganta Verde.
Firefighters and a mountain rescue group, based in Ubrique (Cadiz), have joined the search for the men who were reported missing on Saturday evening at about 7 pm. So, too, has a Guardia Civil mountain rescue group from Alora (Malaga) as well as specialists from Espeleosocorro de Sevilla.
Emergency psychologists are also on the scene to support the families.
The search resumed this morning after being called off on Saturday night "due to the dangerous conditions of the ravine due to the volume of water".
The Fire Consortium of the Province of Cadiz, in a statement, "It is very dangerous, at the moment. Areas such as the Garganta Verde ravine are very dangerous at the moment with a great volume of water in the river. Going into it in these conditions is negligent and puts the safety of everyone at risk."
ÚLTIMA HORA | ?⛈️‼️Rescatados con vida los dos montañeros desaparecidos desde ayer en la zona de la #GargantaVerde en el Parque Natural de la Sierra de #Grazalema #ZaharaDeLaSierra hasta 70 operativos y especialistas han participado en el dispositivo de búsqueda.




— Emergencias 112 (@E112Andalucia) March 18, 2018