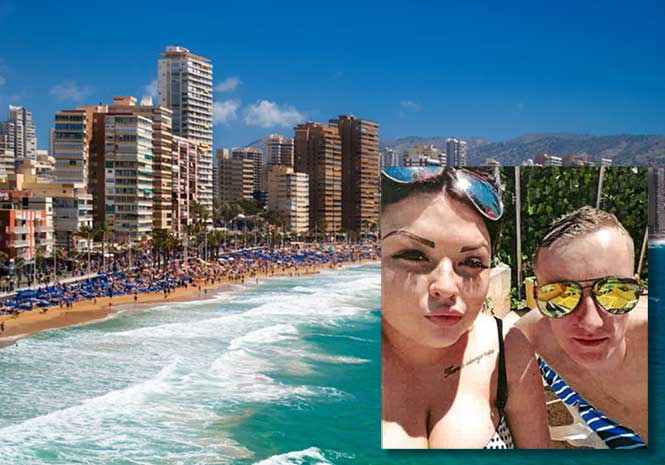 A COUPLE from Liverpool has been ordered to pay a holiday company's costs after a submitting a fraudulent sickness claim following a ten-day all-inclusive holiday in Spain.
Chelsea Devine, 21, and Jamie Melling, 22, were seeking £2,500 compensation each after claiming that the food and drink at their Benidorm hotel on the Costa Blanca left them ill for weeks afterwards.
But the jusdge at Liverpool County Court heard that the pair posted photographs on social media showing them smiling and happy in their hotel room and swimming in the pool.
She ordered them to pay holiday operator Tui £15,000 in costs – a record amount for costs awarded against a fraudulent claim of holiday sickness.
Recorder Sally Hatfield QC, said, "I find that they have not proved that they were ill.
"I cannot accept that they would upload photographs of themselves as a happy couple if the holiday was as they claim.
"The statements are identical. They say that they did not collude, but it is clear the statements were not written by them. There are inaccuracies in them.
"They did not complain [at the time] despite it being easy to do so. They did not complain when they came home. Have the claimants proved that they were ill?
"I do not accept that they did not raise the fact of their alleged illness with the hotel because they were young and inexperienced.
"They were young, but they were in contact with their parents, who apparently gave them no advice. I find that there is no reason why they did not complain. I do not attribute any illness to the unsatisfactory food. There is no evidence of contamination. I accept the evidence of the hotel, and there is no evidence of any outbreak.'
Holiday operator Tui said, "It's disappointing we have had to go this far to defend our industry and hotel partners, as well as protect honest holidaymakers.
"The court has found they brought claims that are fundamentally dishonest and have been ordered to pay our costs.
"This goes to highlight the penalty you can face if you bring an exaggerated or fraudulent holiday sickness claim.'
The doctor who backed the couple's case has been referred to the General Medical Council after it emerged he is married to a partner at the legal firm representing them.
The law firm has also been referred to the Solicitors Regulation Authority.
A Tui spokesman said, "'We believe the fact that medical evidence is being produced by the husband of a partner of AMS, the firm of solicitors representing Ms Devine and Mr Melling, raises serious and obvious ethical and legal questions.
"We've made the General Medical Council and the Solicitors Regulation Authority aware of this and also highlighted our concern to the court.'
Travel association ABTA is calling on the Government to bring in new measures to tackle sickness claims ahead of 2018 holiday season.
They claim figures from a YouGov survey of British adults reveal almost 1 in 5 people (19%) have been contacted about making a compensation claim for holiday sickness.
The most common way people said they were approached was over the phone (14%), followed by text (7%) and email (7%). Some people also reported being contacted on social media (3%) and some were approached in person (2%) including in airports or while on holiday.
ABTA's 'Stop Sickness Scams' campaign highlights that false claims are costing the travel industry tens of millions of pounds and ABTA is calling for the urgent closure of a loophole in the law, which enables claims management companies and legal firms to make more money in fees from sickness claims abroad, than they're able to from personal injuries in the UK.
They remind the public that making a false compensation claim for holiday sickness is an act of fraud and if prosecuted could result in a large fine, criminal record or jail term of up to three years.
Since 2013, there has been a 500% rise in the number of compensation claims received by travel companies for holiday sickness – yet the number of sickness reports to hotels in resorts has remained the same. The problem is only associated with UK holidaymakers – travel firms in other countries have not experienced an increase.