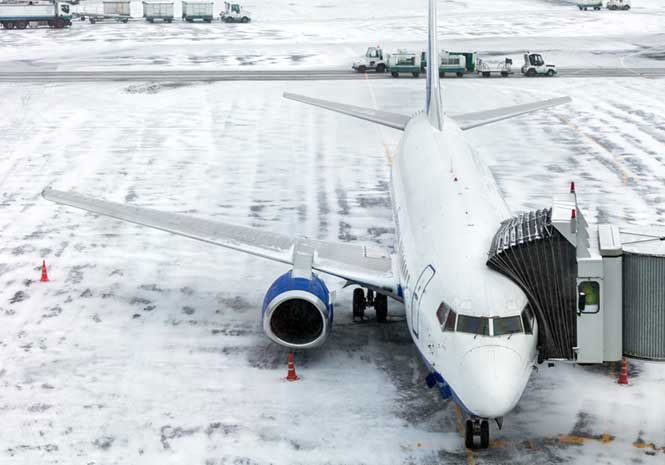 AMBER snow alerts have been issued in parts of the UK as the 'Beast from the East 2' hits and some flights have already been cancelled or delayed.
The Met Office has warned a blast of cold, ice and snow accumulations of up to 10cm (4in).
More than 70 flights to or from Heathrow Airport have already been cancelled. Most of the cancellations were on short-haul routes with Lufthansa, Aer Lingus, TAP Air Portugal and KLM among other airlines with Heathrow flights cancelled.
A British Airways service to New York and Chicago was also affected.
A spokesman for BA said, "Poor weather conditions are forecast across parts of the UK across the weekend, so we have merged a small number of flights travelling to or from Heathrow Airport.
"During cold weather conditions aircraft have to be de-iced prior to departure to ensure that they are safe and additional measures are taken to ensure the safety of our operation is maintained at all times."
A Heathrow airport spokeswoman said, "While this weekend's weather may result in minor delays and some airlines consolidating flights, significant disruption at Heathrow is not currently expected.
"We are working closely with our on-site Met Office to monitor the further snowfall expected throughout the weekend.
"As always, we advise passengers to check their flight status with their airline before coming to the airport."
London Stansted Airport has also issued a statement saying, "Due to potential snowfall and adverse weather conditions over the weekend, we advise passengers to keep up to date with traffic and transport updates and plan their journey to and from the Airport accordingly.
"Please check with your airline for the latest flight status & allow extra time for your travel."
— Stansted Airport (@STN_Airport) March 16, 2018
The white stuff is expected to fall this weekend so please leave plenty of time for your journey to the airport and speak to your airline for the latest flight updates. pic.twitter.com/Rsqnm11knX

— Manchester Airport (@manairport) March 16, 2018
Morning Folks, the weather is causing slight disruptions this morning (due to airlines having to de-ice aircraft).For uptodate flight info check our website and your airlines website ?

— LeedsBradfordAirport (@LBIAirport) March 17, 2018
Weather Advisory for Sat 17 and Sun 18 March https://t.co/qrz2xbjW8e pic.twitter.com/Hyw7n6ApnG

— London Luton Airport (@LDNLutonAirport) March 17, 2018
Flights are currently arriving and departing as normal, however, the weather is predicted to deteriorate and we advise you to check with your airline for the latest flight info before leaving for the airport. Please also allow extra time for your journey to the airport.

— Gatwick Airport LGW (@Gatwick_Airport) March 17, 2018