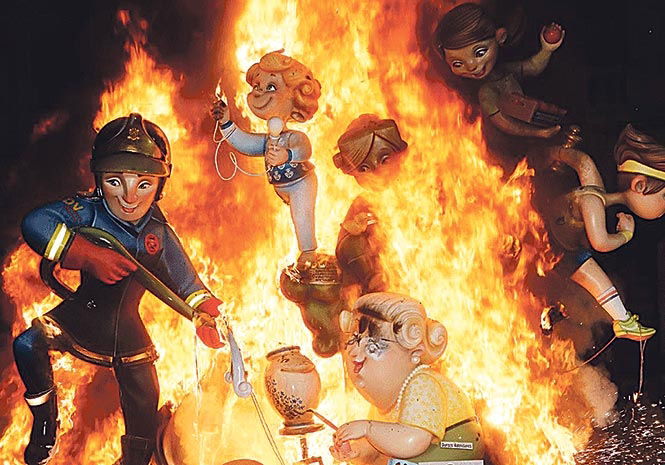 THIS weekend the city of Valencia welcomes spring in style during the annual Las Fallas festival – a loud, boisterous fiesta where the city is literally set alight.
The festival started as a celebration of St Joseph, the patron saint of carpenters, but has since evolved into a five-day fire extravaganza. The quiet city's population of around one million more than trebles in size during the celebrations as people flock from across the globe to witness the festivities.  
The festival is all about the creation of 'ninots' – huge lifelike statues made from wood, cardboard, paper-machè and plaster which are paraded through the city streets, then destroyed in a giant firework display at midnight on the dot.
The ninots tend to depict lewd, satirical scenes relating to current events and will often make fun of Spanish politicians or Spanish celebrities.
These bawdy giants can cost up to €60,000 to create and are crafted by local neighbourhood organisations. The labour process is intensive and can take up to 12 months to complete so as soon as that year's festival is over, work already begins for the next event.
During the early evening on the final day of the festival, a group of people with axes chop carefully placed holes in the ninots and fill them with fireworks. 
On the run up to midnight, the streetlights are all switched off, the crowds start to chant and the fireworks are lit as the clock strikes 12. 
In recent years, the local firemen have come up with methods to protect the town's buildings from being accidentally set alight by the fireworks, including covering them with fireproof material.
Every year, one of the ninots is saved from obliteration by a popular vote. The pardoned statue – called the ninot indultat – is then displayed in the local Museum of the Ninots along with the other lucky escapees from previous years.