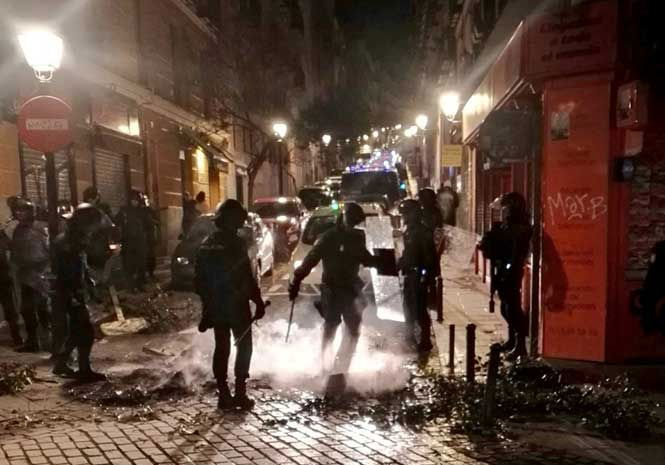 MIGRANTS have clashed with police in Madrid following the death of a Senegalese illegal street vendor leaving 20 people injured with six arrests.
Protestors said Mmame Mbage, who was in his mid-thirties, was chased through the streets by police before he died of a heart attack.
An angry mob of more than 50 protestors set fire to rubbish bins, a motorbike and threw stones at riot police and firefighters in Lavapiés, an area in the centre of the Spanish capital with a large immigrant population.
An emergency services spokesperson said Mbage was found unconscious on a street in Lavapiés by police on patrol. They were trying to revive him when emergency workers arrived, but he died of cardiac arrest.
But she did not know what had happened to Mbage before he collapsed.
En la calle Tribulete los bomberos extinguen las llamas de los contenedores incendiados. Se escucha el sonido de las pelotas de goma de las cargas policiales de fondo pic.twitter.com/pwRbyK6y4e

— Helena Poncini (@helena_poncini) March 15, 2018
Plaza de Lavapiés, 23h pic.twitter.com/4IhFCNHrie

— Stéphane M. Grueso (@fanetin) March 15, 2018