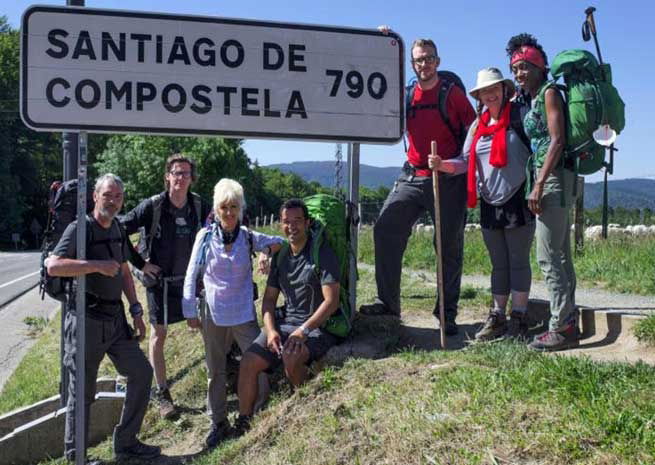 IN a new three-part travelogue television series starting tonight (Friday) on BBC2, seven famous faces are stripped of their everyday comforts to live as modern day pilgrims as they set out on the famous medieval pilgrimage, Spain's Camino de Santiago.
With just over a fortnight to tackle this ancient path, actor Neil Morrissey, entertainer Debbie McGee, comedian Ed Byrne, singer Heather Small, priest Kate Bottley, journalist Raphael Rowe and TV presenter JJ Chalmers hike through France and northern Spain to the Cathedral of Santiago de Compostela and the shrine of St James.
The group – made up of a variety of faiths and beliefs, including Christian, atheist and humanist – will live as simple pilgrims.
But will this journey of a lifetime change the way they think about themselves and their faith?
In this first episode, the pilgrims face one of the most gruelling parts of the Camino de Santiago route – a 26km hike from France into Spain.
It sorts the seasoned walkers like Ed and JJ from the strollers, such as Neil, who soon realises he might not be prepared for the task ahead. As a former Catholic, and now atheist, Neil soon discovers that the arduous experience is not bringing him any closer to God.
Meanwhile, Kate's faith takes a knock as she struggles to keep up with the group, while Raphael refuses to be swayed by anything religious – in prison he clung to hope, not God, after serving time for a crime he did not commit.
For Debbie, she finds solace in a fellow traveller after opening up about the loss of her husband Paul Daniels.
As they move along the route through vast mountain ranges and stunning landscapes in France and Spain, the group explores their differing religious beliefs, bond over the physical task and find humour when they realise what living like a simple pilgrim entails.
BBC religion commissioning editor Fatima Salaria said: ""I am always looking for stories that bring contemporary relevance to my genre; those that are both personal, but also offer audiences a variety of thought-provoking perspectives.
"This new three-part series for BBC Two does just that by combining religious and spiritual debate with insightful moments of self-discovery."
• Pilgrimage: The Road To Santiago, BBC2, Friday, March 16, 9pm – 10pm (UK time)