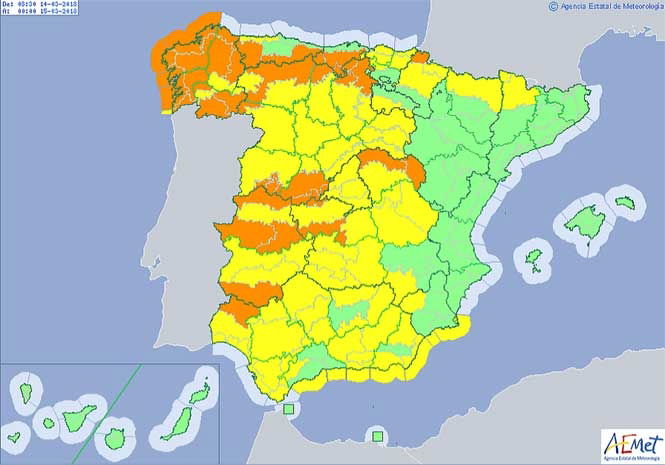 FOLLOWING hot on the heels of Storm Felix – that brought widespread heavy rain and high winds to Spain – Storm Gisele is following in its footsteps today (Wednesday).
The State Meteorological Agency (AEMET) has put 38 provinces on alert for heavy rain, strong winds, snowfall or rough seas.
Galicia, the Asturias, Cantabria, Extremadura, Castilla y Leon, Andalucia, Castilla-La Mancha, Navarra and Aragon will have some areas on orange alert for strong winds that will exceed 80 km/h, and gusts that could exceed 120 km/h in Galicia and the Cantabrian mountains regions.
Much of the country will be on yellow alert for rain or snow.
Rain will begin to fall during the early hours of Wednesday in the west of the peninsular and will move eastwards throughout the day until reaching the centre of the country.
In areas of the Cantabrian mountains and the interior of Galicia the precipitation will fall as snow above 1,000 metres, especially towards the end of the day.
Despite the rains, the wind will be the main feature of this new storm that will affect almost the entire peninsula. The gusts of wind will exceed 80 km/h across almost the entire country, although in the Ebro valley and the easternmost tip of the country they will be less intense.
But in some western points of Galicia and the Cantabrian mountains they could exceed 120 km/h.
The storm will also affect the Spanish coasts, with orange warnings in Galicia due to rough seas and high waves, especially in the province of A Coruña.
The Mediterranean coast also has activated wave warnings from Huelva to the south of Alicante.
Generally, the eastern third of the peninsula, as well as the Balearic and Canary Islands, will be the least affected areas.
Temperatures will be around the normal for the time of year.