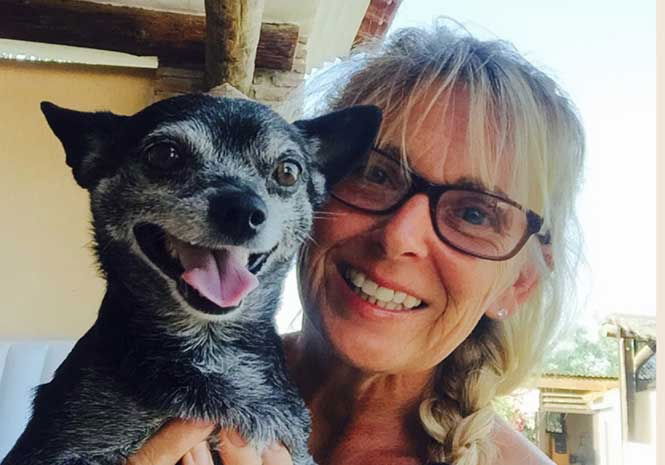 AN expat from the UK has issued a heart-breaking plea, and offered a reward, to anyone with information about her missing pet dog in Spain.
Christine Gittings, 46, last saw her ten-year-old large Chihuahua, George, more than two weeks ago at her home in Villafranco near Coin in Malaga's Guadalhorce Valley.
The expat, originally from Hertfordshire, has offered a €500 reward for the return of George or any information that leads to his safe return.
And now Christine has appealed to Euro Weekly News readers and our Facebook followers to help find her little dog.
She said, "Where is my George? Is he tied up? Is he in a cage?
"I have searched and searched and searched. I have put up posters. I can't sleep with the worry.
"The last two weeks have felt like one day to me – it's like every day has rolled into one big long nightmare. But I carry on searching."
She doesn't believe that George was stolen but that someone opened her gates and he wandered off.
Christine said a lady photographed George on a track just a 20-minute walk from the house but he could have easily found his way home.
"The complete area has been searched over and over again, " she said.
"The kindness of people that I have never met has been extraordinary,
"These wonderful people that I have never met before are giving me the strength to carry on.
"My George has to be somewhere; my George is such a unique dog that the only human he likes is me. All my friends and family will tell you that.
Christine is worried in case he has been taken out of the area and is now appealing for help spread the message 'to make as many people possible aware that my George is missing.'
On a Buscando George Facebook page written in George's name it says, "I went everywhere with mummy, no one else found me cute, no one else has ever really liked me, I think that is because I don´t like humans, me and mummy don´t care as we love each other.
"I never left my mummy´s side for the first two years of my life. I remember the first time she went away for the night, she said 'baby I will be back tomorrow morning'. That night I went into the kitchen I looked up at the moon and for the first time in my life I howled and I howled and I howled so loudly that mummy´s daughter Kerry phoned mummy. My mummy loves me so much that she came straight home. It took me four days to forgive her for leaving me.
"So if the person that might have taken me is reading this, please don´t tie me to a tree and use me as a guard dog, as without my special blanket and my mummy I won´t bark for you.
"Please don´t use me to make puppies as I was born with a heart condition and it´s not fair to pass it on to others.
"Please let me go, please take me back to where you found me. I don´t have many years left and my mummy will be so worried about me.
"Please don't forget about me, please keep looking for me."
"I want to go home."
If you have any information you think might locate George please contact Christine on 674 845 852 or message her via the Facebook page: https://www.facebook.com/buscandogeorge/