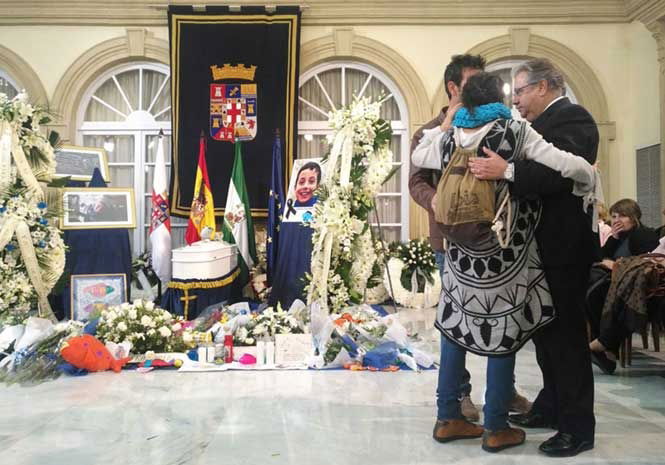 THOUSANDS of mourners are expected to turn out in Almeria today (Tuesday) for the funeral of eight-year-old Gabriel Cruz Ramirez.
The service will be held at 10.30am in Almeria's Cathedral. Large screens will be installed outside the church to give 'greater access' to those who wish to attend and participate in it.
The lifeless body of little boy who went missing from near Nijar on February 27 was found in the boot of the car being driven by his father's girlfriend on Sunday.
Initial findings suggest that the boy was strangled before his body was buried on a remote farm.
The woman in custody had taken part in searches involving thousands of professionals and volunteers and was the one who 'found' a vest that contained traces of Gabriel's DNA.
Her movements were monitored for several days and on Sunday, when officers stopped her car in Vicar, they found the body of Gabriel beneath a blanket.
Yesterday, at about 4.30pm in the aftenoon a hearse carrying Gabriel's white coffin arrive at a chapel where hundreds of people paid their respects to Gabriel and offer condolences to the family in Almeria.
Gabriel's mother, Patricia Ramírez, thanked everyone for the messages of affection they had received.
"I have no words to thank people for all good actions, although this has not had a happy ending.
"This situation has brought out the most beautiful people.
She asked for it not to end in rage and not for people to talk about the arrested woman.
"It does not deserve to be covered."
"The 'pescaíto' is swimming to heaven and I would like all the people to send a fish with a nice word wherever they want but to forget about this woman because she does not deserve to be covered, nor let us talk about her."
Government Minister Juan Ignacio Zoido said, "What an example of fortitude and humanity Patricia and Angel are giving us, who turn so much pain into hope. All our affection and encouragement to them. You will always be with us, rest in peace #GabrielCruz."
He trasladado a la familia de #GabrielCruz el cariño y solidaridad del Gobierno y de todo el país. Debemos estar a su lado en estos durísimos momentos. pic.twitter.com/3TSgOyLsAC

— Juan Ignacio Zoido (@zoidoJI) March 12, 2018