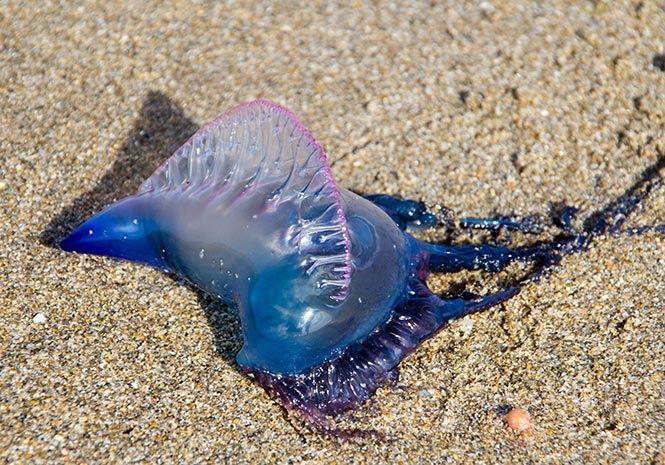 THE number of killer jellyfish washing up on beaches in southern Spain is surging.
Beachgoers have been warned to stay away from the potentially lethal Portugese man o'war – also known as the floating terror – after several were spotted by horrified walkers on beaches in Malaga City and holiday hotspot Marbella.
Hundreds of the venomous blue and purple creatures have also washed up in Cadiz and Huelva provinces after being blown in by strong westerly winds from the mid-Atlantic Ocean.
A beach in Lepe, Huelva, remains closed after more than 200 were counted.
An official from the Aula del Mar marine museum in Malaga said: "We urge people not to touch the animals as they can still sting when stranded or dead, and the stings can be extremely severe.
"The tentacles can become detached and these are also still capable of stinging.
"Animals and children are particularly at risk."
Although only an occasional visitor to the region, it is reportedly most common at this time of year, especially after a storm.
The man o'war is not a true jellyfish but a colony made up of small individual animals called polyps that are unable to survive alone.
Unable to move independently, the creature floats on the surface and is propelled by a balloon-like 'sail.'
Its tentacles can be more than 30 metres long and they deliver a painful sting causing whip-like red welts on human skin.
A man o'war floating at sea 
Stings are not usually fatal but can provoke an allergic-type reaction in some cases, while urgent medical attention might be needed if a person comes into contact with many tentacles.
Instances where a tentacle becomes wrapped around the victim's torso are said to cause the most deaths, especially in children.
In 2010, Italian Maria Furcas, 69, collapsed and died after she was stung on the leg while swimming at Porto Tramatzu near Cagliari, Sardinia.