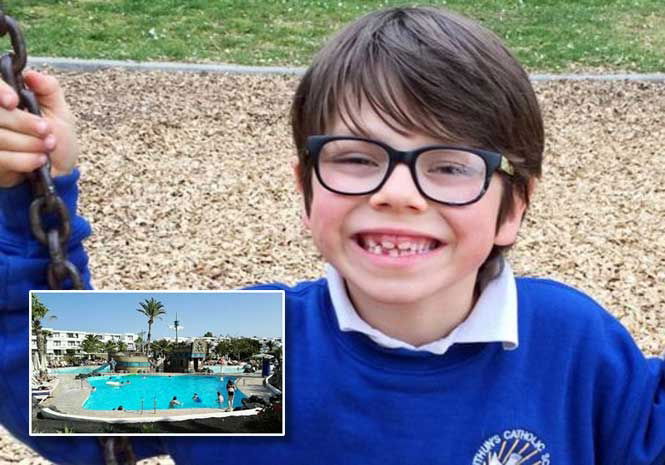 THE mother of a young boy who drowned on holiday in Spain has told an inquest in the UK that there were 'no lifeguards' on duty at the hotel complex swimming pool when he died.
Apollo Badran's mother, Annelies Denecker, who was not on the holiday, told the inquest at Portsmouth Coroner's Court, "What we have found from all the information, there were no lifeguards to be seen that were supposed to be there and when they finally arrived 10 minutes later they didn't know quite what to do."
Apollo, died four days after being found at the bottom of the deep end of a swimming pool at the H10 Lanzarote Gardens in the Canary Islands.
He was with his aunt and grandmother when he 'simply disappeared'.
The court heard how the 'talented, witty and cuddly' youngster died on May 30 after being put in an induced coma, after the incident on May 26 last year. He was initially treated at a local hospital before being transferred to Gran Canaria.
Coroner David Horsley said, "If as you suggest there are supposed to be lifeguards there who weren't there, that's a matter for the Spanish authorities rather than me to take criminal action if there is a criminal act in Spain.
"If they were supposed to be there it's tragic that they weren't because it could have reversed the situation quite clearly."
He added, "Despite the efforts made at the side of the pool and at the hospital they were unable to save the poor little boy."
Recording a verdict of accidental death, the coroner said the information supplied from Spain was 'sketchy'.
Spanish authorities initially recorded the death as a 'natural death' but then started a 'judicial death' probe. The outcome of that investigation has not been shared with the coroner.
Parents Annelies Denecker and Gus Badran, who were at the inquest, paid tribute to their son in a statement.
"He was always trying to make his friends laugh – and usually succeeded! He was determined, a quick learner, wonderfully creative and enjoyed sport, being healthy and strong.
"Losing Apollo has left a permanent vacuum in all our lives.
"He was a happy, kind boy with the most incredible smile, a wonderful brother to Eva and Oscar and an amazing son to us both.
"We are very grateful to our Southsea community, church and school who came together at such a difficult time and continue to support us still.
"We have been touched by the many messages, kind words and memories of Apollo which people have shared and these are a great source of comfort.
"The time we had with Apollo was far too short but we will always treasure the memories of our talented, witty and cuddly boy."