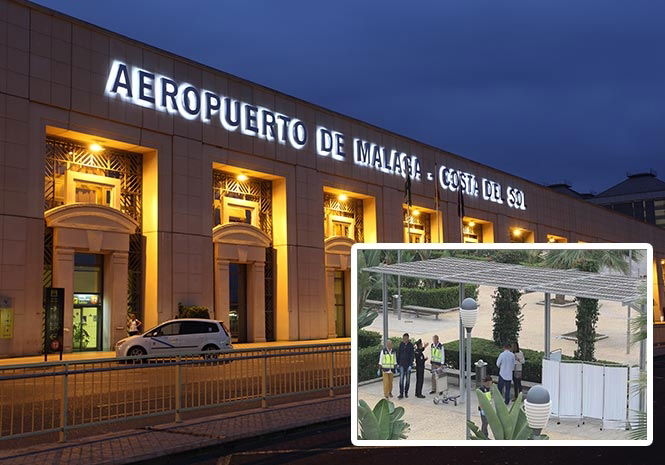 THREE men accused of the manslaughter of a British man who was found at Malaga Airport with his genitals resting inside an empty tuna tin and slices of ham on his buttocks have been jailed.
Irishman James O'Byrne, 59, from Cork, plus Finnish pair Jussi Petteri Munck, 41, and Mika Tapio Soininem, 48, pleaded guilty to the charge after agreeing a plea bargain with prosecutors.
They will each serve two-and-a-half years in a Spanish prison.
It comes after alcoholic and homeless Londoner Steven Allford died on a bench outside the Costa del Sol airport's railway station on October 21 2016.
His trousers were pulled down and plastic ties had been used to bind his wrists and ankles.
Mr Allford had been drinking heavily and choked to death on his own vomit, but Santiago Calvo Cervera concluded that the ties may have contributed by stopping him from moving freely.
He said in a three-page ruling: "They didn't just tie him to the bench, which Mr Munck made sure was done, but they filmed Mr Allford and were also laughing about his helplessness.
"They put a lit cigarette in his mouth after first wedging it between his buttocks and introduced his naked testicles into an empty tuna tin.
"They behaved as if they were presenting a news report and posted the video onto Soininem's Facebook page after he filmed what was happening.
"When they had finished laughing, they left Mr Allford to his fate."
During the initial hearing, the two Finnish men repeatedly claimed that the stunt "was just a joke," and that they only wanted to make fun of the victim, with one recording it on his mobile phone before uploading the video to Facebook.
The footage, which was quickly deleted, that led to detectives identifying the culprits and proved that Mr Allford was alive as he lay face down while being mocked.
One of the Finns was tracked to a prison in his homeland, where he was being held for a separate offence, while the other was held at his home before the pair were extradited to Spain.
O'Byrne was arrested in February 2017 as he slept rough in a tent in Algeciras, Cadiz, having earlier told investigators that he had only seen the incident from afar, and that he "hoped they would find the culprit."