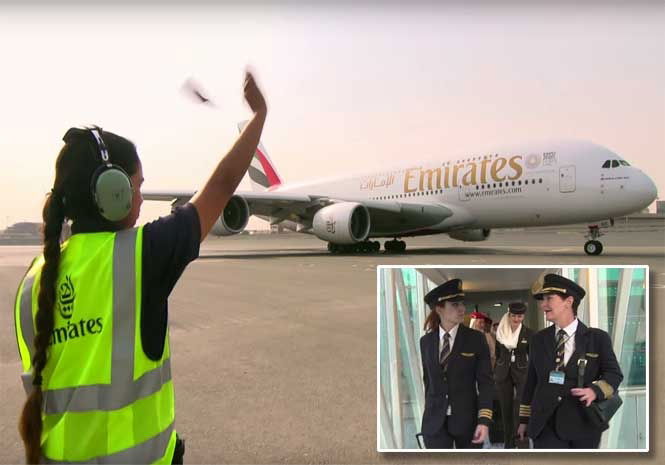 TO mark International Women's Day an airline has flown an Airbus A-380 flight that was prepared, serviced and crewed ENTIRELY by a female team.
The Emirates 'Superwomen' flight from Dubai to San Francisco was the first time the United Arab Emirates national airline had prepared a flight with an entirely female team.
It's a huge operation to get a passenger plane airborne. A team of 75 'above wing' and 'below wing' roles are required. This included everyone from the pilot team, Captain Patricia Bischoff from Canada and First Officer Rebecca Lougheed from the UK, down to the all-women ground team of catering and security teams.
Mr. Abdulaziz Al Ali, Emirates' Executive Vice President of Human Resources, was proud to have women represented in all these key functions.
"Women have been part of the Emirates success story from the start and on International Women's Day we celebrate their extensive contribution to Emirates and to the broader aviation industry."
Also, as part of International Women's Day, Captain Nevin Darwish from Egypt and First Officer Alia Al Muhairi from the UAE fly the iconic Emirates Airbus A380 from Dubai to Vienna for International Women's Day.
Captain Darwish is the first woman of Arab origin to have captained the Airbus A380. First Officer Al Muhairi, a UAE national, is currently the youngest Emirati female pilot operating the Emirates A380 aircraft.
Female employees make up over 40% of the Emirates workforce though this drops to 20% towards the higher altitudes of supervision and managerial roles.