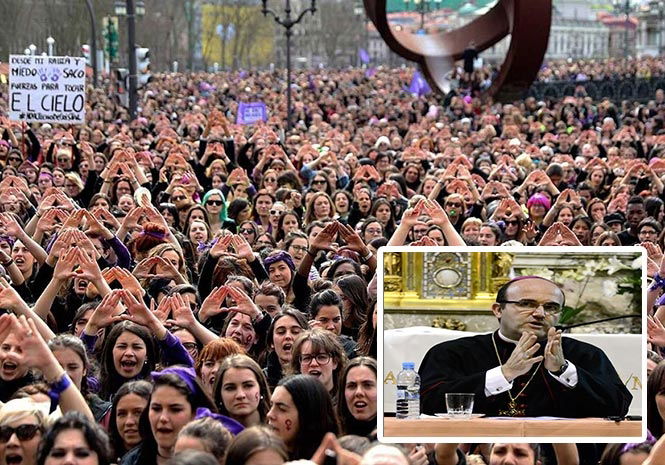 THE BISHOP OF SAN SEBASTIAN has claimed that Spain's first national women's strike is a 'victory for Satan.'
In a wide-ranging radio interview, Jose Ignacio Munilla, 56, said that feminists have been "possessed by the devil."
The controversial clergyman slammed women taking part in the strike for supporting "free and gratuitous abortion," plus "the ideals of lesbianism" and "bisexualism."
He went on to blame the feminist movement for "the lowering of pensions," and "female genocide," with some countries now using abortion as a "selective instrument" to prevent the birth of girls.
"There are two types of feminism, a healthy form and a radical one that is manipulated by the gender ideology," he added.
"It's funny how the devil can score an own goal…feminism, by assuming gender ideology, has committed harakiri.
"Gender feminism is the suicide of one's own feminine dignity."
The bishop also said that monogamy and fidelity are two of Christanity's contributions to the "dignity of women," but that radical feminism has made "the woman herself the victim, reducing her to an instrument of pleasure" by separating sexuality from procreation.
"What gives women dignity is the gift of motherhood, the power to be a custodian over the gift of life."
His comments sparked outrage among feminist groups, with an official from the Basque Feminist Movement telling Spanish media that the comments would be seen as "a joke" if not for "the power of the church, an institution that forms part of the machismo system that constantly tells women what to do."
Josu Erkoreka, a regional government official, said that the radio interview was "incomprehensible, unfortunate and inopportune."
Mayor of San Sebastian, Eneko Goia, added that the bishop "appears to inhabit another world."
And it is not the first time that the priest has triggered a war of words.
In 2015 he published a 168-page manual entitled 'Sex with soul and body' in which he compared to masturbation to self-harm and described homosexuality as a sin.
"Their acts are intrinsically depraved and cannot receive approval in any way," he wrote.