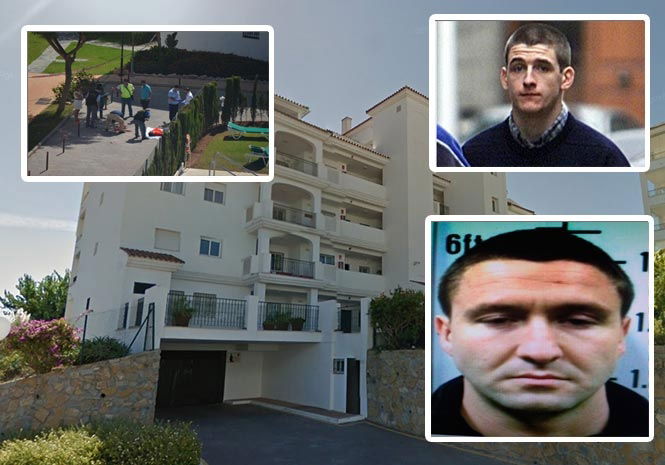 A MAN accused of murder on the Costa del Sol could be handed only the second life sentence issued in Spain over the last four decades.
Prosecutors say that Irishman James Quinn donned a balaclava before lying in wait for compatriot Gary Hutch in the car park of a gated housing estate near Fuengirola.
He then chased Hutch, who was 34, on foot before gunning him down and shooting him twice in the head after he had fallen.
The brutal hit triggered a feud between rival crime families that has claimed 14 lives in Ireland and Spain to date.
Dubliner Quinn insists he has been wrongly identified as the assassin who executed Hutch in Calahonda on September 24, 2015.
But an eight-page indictment against him alleges that he carried out the killing on the orders of an "unknown person" after being dropped off at the victim's home in a car stolen from Mijas.
It reads: "He (was) armed with a 9mm Glock 26 semi- automatic pistol whose serial number had been erased and a .45 semi-automatic Colt 1911 pistol.
"When Gary approached his vehicle moments later, the accused began to shoot at him in a surprise attack.
"Initially the victim was able to flee towards the inside of the estate but the accused chased him and fired more than 15 shots.
"Finally, the accused caught up with him when Gary was on the ground and virtually motionless because of the bullets he had been hit with. Giving him almost no chance of defending himself, he shot him twice in the head from close range and killed him instantly.
"He subsequently fled in the aforementioned vehicle which was waiting for him outside the gated complex and tried to burn it afterwards to erase any trace of his criminal action."
It is also claimed that Quinn enjoyed "a high standard of living in Spain revolving around luxury homes, high-end cars and numerous trips abroad to places like Dubai and Thailand.
"He even managed to acquire a boat valued at more than €100,000 despite having no known job or means of sustenance."
The then 30-year-old was held at his Benahavis home a year after the shooting, with police describing him as a "drugs and weapons trafficker."
He has been charged with murder and possession of illegal weapons and prosecutors have demanded he pay the victim's family €90,000 if found guilty.
Only one person is currently serving a life prison term in Spain because the maximum possible sentence was 40 years until a reform was passed in 2015.