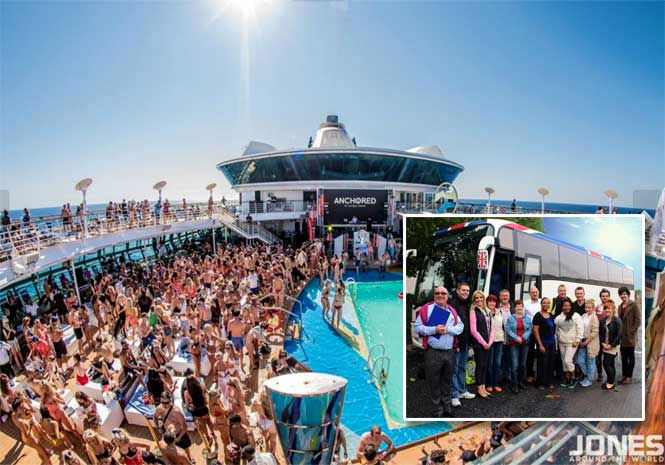 A 'SEXED-UP' nautical version of hit Channel 4 reality show Coach Trip guaranteeing 'sun, sea and sass' is to take to the seas around Spain on a Mediterranean cruise ship.
Two teams of friends will be jetting off to the Med joining thousands of tanned and toned twenty-somethings for a once-in-a-lifetime party aboard one of Europe's most lavish cruise liners letting their hair down with an itinerary of pool parties, big name DJs and some of the most exclusive events in the world.
Across the five-part series, with a working title of 'Shipmates', the two teams of five will compete in a host of challenges. But only one group will be victorious when, at the end of the cruise, their fellow passengers vote for their favourite team.
No Shipmates series presenter has yet been announced but producers will be hard-pressed to beat the Coach Trips' Brendan Sheerin.
The travel guide and TV presenter started his career on Costa Brava in the late 1970's and now lives on the Costa del Sol when he's not travelling.
Channel 4 has commissioned the new reality series from West Midlands based indie Full Fat TV.
The series will be overseen by Cadman and Gilly Greenslade for Channel 4, Chantal Boyle and Colette Foster will executive produce the series for Full Fat TV with Kim Rossiter as Series Producer.
Becky Cadman says, "We're excited to be working with Midlands indie Full Fat TV on a series that's guaranteed to be full of sun, sea and sass."
Colette Foster added, "We're delighted to be working with the extraordinarily talented team behind Anchored. They've given the cruise a millennial makeover and it's set to be the most Instagrammed event this year. The competition promises to be fierce and, we hope, the next must-watch series on Channel 4."