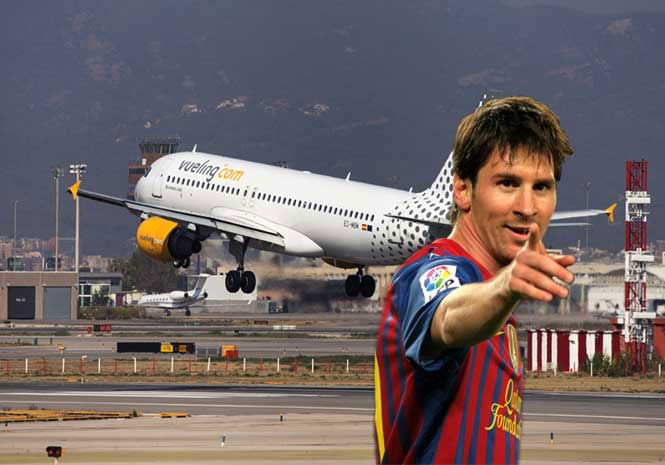 A SPANISH low-cost airline has been forced to apologise after its boss claimed a no-fly zone over FC Barcelona player Lionel Messi's home was stopping the city's El Prat airport from expanding.
It was reported that Vueling president Javier Sanchez-Prieto made the claim during a business breakfast and said the airport's runways were limited "because you cannot pass over where Messi lives."
Vueling has since issued a clarification but doesn't refer to Messi by name only as 'the footballer'.
The statement says, "Vueling regrets the misunderstanding generated during the presentation of the company's financial results.
"In a relaxed context, and in answer to a question from someone who attended, who said 'Vueling is to El Prat what Messi is to Barcelona Football Club' before asking for the airline's opinion about the future of El Prat, Vueling replied that the airport was faced with the challenge of continuing to grow to respond to demand.
"However that growth could encounter serious limitations because of environmental issues.
"Continuing with the football theme and in a relaxed atmosphere it was said that part of the limitations were due to the fact there was a no-fly zone over some houses, including those of the footballer.
"We want to stress that it was never our intention to involve the footballer in any controversy and we can state that he has never made any public statement with regards to the airport or its operation."
Messi lives on the Bellamar exclusive private estate in Castelldefels, just south of Barcelona.
Although Messi was mentioned by the Vueling boss, it is understood the no-fly zone actually affects another nearby estate called Gava Mar and not the area the footballer lives in.