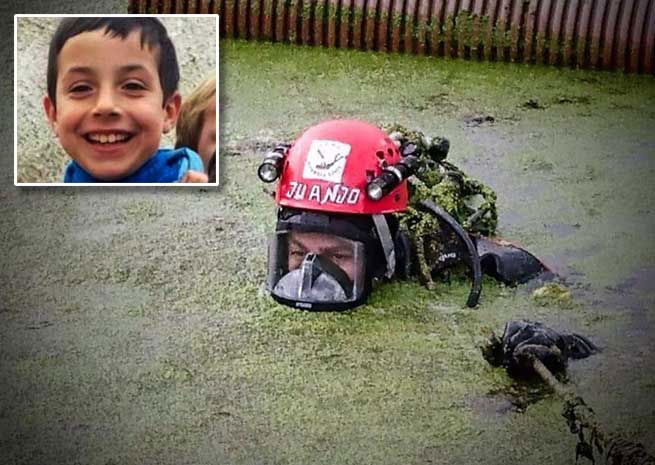 THE parents of an eight-year-old boy who has been missing in southern Spain for almost a week haven't given up hope of finding him alive.
On Saturday, the boy's father found a white t-shirt belonging to the child – and today authorities have confirmed his DNA has been discovered on it.
However, it is reported the t-shirt was not on the list of garments the child was reported to be wearing at the time of his disappearance and it was 'found' several kilometres from the route the boy would have taken.
Yesterday (Sunday) a specialist underwater search team from the Guardia Civil searched a water treatment plant in the area but without success.
Gabriel Cruz Ramirez was last seen on Tuesday, February 27, when he left his grandmother's house in Las Hortichuelas, a hamlet in the town of Nijar in the province of Almeria.
He had gone to play at a friend's house but he never returned.
Despite huge searches of the area, involving more than 500 personnel, no other trace has since been found of Gabriel.
At a press conference last night the parents said they are more hopeful of finding Gabriel alive after the search of the water treatment plant proved fruitless as they feared he may have drowned.
Last week it was revealed that police had detained a man for breaking restraining order against Gabriel's mother – but they did not link the two events.
Emergency services will continue their search for Gabriel today using a specialist dog unit, riders on horseback and drones.
They have also called for 'public collaboration' and urged anyone with information to call 112, 062 or 091.
Las pruebas realizadas han certificado que la camiseta encontrada tiene ADN de #GabrielCruz. Continúa su búsqueda, la colaboración ciudadana es fundamental. Si sabes algo, llama al 112, 062 ó 091. Muchas gracias. pic.twitter.com/pdLQtf4Pbc

— Juan Ignacio Zoido (@zoidoJI) March 5, 2018