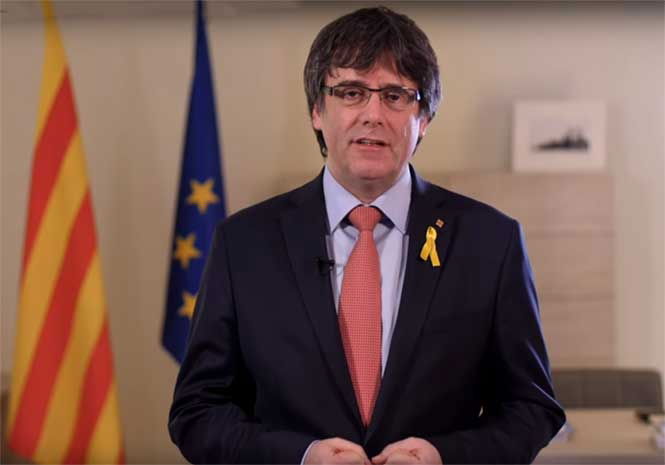 CATALUÑA'S former separatist leader Carles Puigdemont has stepped aside and withdrawn his candidacy as president of the region.
Speaking from self-imposed exile in Belgium he posted a video to his Twitter account last night (Thursday).
He said he had asked the President of the Parliament of Cataluña "to start as quickly as possible the round of contacts with the different parliamentary groups to proceed with the election of a new candidate to be invested as president of the regional government."
Puigdemont said his decision "does not fully guarantee the restoration of our autonomy … but it will give us the freedom to undertake the next phase of the road towards independence."
He said his party would propose a pro-secession campaigner, Jordi Sanchez as an alternative candidate. But Sanchez is currently on remand in a Madrid prison on charges of sedition.
Puigdemont said he would lead an 'international offensive' to make the Catalan case and went on to attack what he labelled Madrid's 'coup d'état to subdue the will of the Catalan people.'
He also announced the creation, in Belgium, of what he called the "Council of the Republic," an unofficial group that is expected to promote the Catalan independence project — as well as safeguard a position for himself.
Puigdemont, who risks being arrested the moment he re-enters Spain from was the first choice of the pro-independence majority in the Catalan parliament after December's election, but the country's Constitutional Court ruled he couldn't be elected while out of the country.
He faces charges of rebellion, sedition and misuse of public funds in Spain.