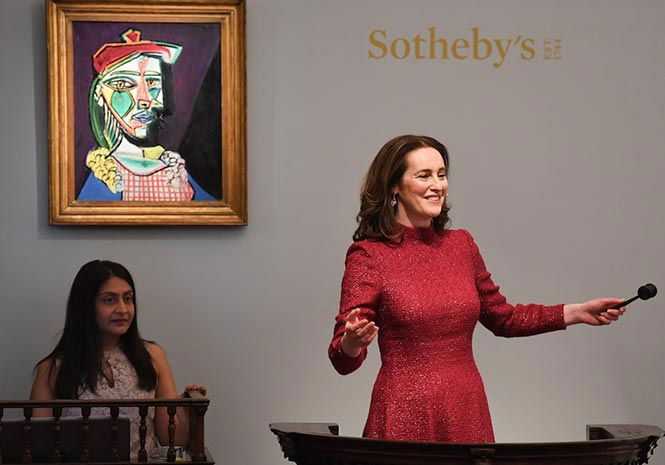 A MASTERPIECE by Spanish artist Pablo Picasso has smashed the British record after selling for £49.8 million (€56.2 million) at auction.
The Malaga-born painter's 'Femme au Béret et à la Robe Quadrillée (Marie-Thérèse Walter)' was bought by a telephone bidder at Sotheby's London.
It was the prize piece in a 47-lot sale of Impressionist, Surrealist and modern art, and obliterated its £35 million estimate to become Europe's second-most expensive artwork after Giacometti's Walking Man sculpture, which sold for £65 million (€73.4 million) in 2010.
Painted in 1937, the same year as other Picasso masterpieces including Guernica and The Weeping Woman, it depicts the head and shoulders of his French mistress and muse Marie-Thérèse Walter.
The couple met met ten years earlier, when he was 45 and she just 17, and their daughter Maya was born in 1935, but by the time the painting was completed Marie-Thérèse was vying with Dora Maar, the model for The Weeping Woman, for Picasso's attention.
The brightly-coloured 22-inch high painting had never appeared on the market before, with the former owner having acquired it from the artist's private estate, according to Sotheby's catalogue.
London-based art adviser Gurr Johns – which buys and sells artworks for moneyed clients – landed the piece plus the sale's three other Picasso paintings, splurging £73.8 million (€83.4 million) in the process.
A day earlier, the company splashed £38.9 million (€43.9 million) at Christie's as it snapped up at least nine other Picasso works.
It remains unclear whether the purchases were on behalf of a single or multiple clients.
Sotheby's first major auction of the year raked in £136 million (€153.6 million), down on last year's £150 million (€169.5 million) but still a sign of market strength, according to an official.
But despite including the most expensive artwork ever sold on British soil, it was eclipsed by Christie's total of £149.6 million (€169 million).
The sales come ahead of the opening of the Tate Modern exhibition Picasso 1932 – Love, Fame, Tragedy, which opens today (Thursday) having transferred from the Musée National Picasso-Paris.
It includes the masterpiece Le Rêve, an earlier portrait of Marie-Thérèse Walter which was in 2013 bought by American billionaire hedge-fund manager Steven A. Cohen for $155 million (€127.2 million).