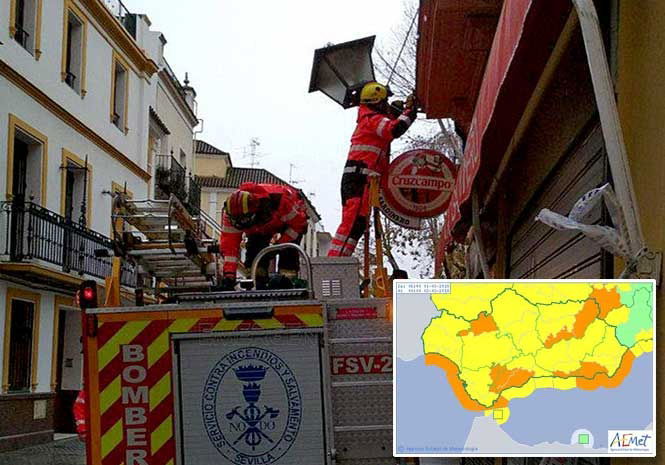 THE rain and gales that battered Andalucia during the autonomous community's festival day yesterday (February 28) have left a trail of destruction in their path.
112 Andalucia reported that they received a total of 281 calls that mainly related to flooding, landslides, road obstacles and traffic accidents.
The majority of incidents (161) were reported in Sevilla followed by Huelva (36), Cadiz (25) and Malaga (23).
The outlook is not looking any better either with yellow and orange adverse weather warnings still active in many areas.
The state meteorological agency, Aemet, has warned people not to go out or make unnecessary journeys. They also recommend keeping away from promenades and breakwaters in coastal areas.
Today and tomorrow the entire province of Andalucia has a yellow warning for strong winds between 70 to 80 km/h except for Cadiz, Jaen and Malaga, where the level will be orange with maximum gusts of 90 km/h.
Huelva, Sevilla and Córdoba have yellow severe weather alerts for heavy rain with up to 50 litres per square metre falling in 12 hours.
From three in the morning, the alert will be orange for the Grazalema area in Cádiz and the province of Málaga.
Yesterday, in the province of Sevilla, incidents were reported in almost thirty municipalities: Alanis de la Sierra, Alcala de Guadaira, Alcala del Rio, Almaden de la Plata, Brenes, Bollullos de la Mitacion, Bormujos, Camas, Cantillana, Carmona, Cazalla de la Sierra, Constantina, Coria del Rio, Dos Hermanas, El Viso del Alcor, Espartinas, Guillena, La Rinconada, Los Palacios y Villafranca, Mairena del Alcor, Mairena del Aljarafe, Montellano, Morón de la Frontera, Olivares, Stops, San Juan de Aznalfarache, Sevilla, Utrera and Valencina de la Concepcion.
In the capital of Sevilla one woman was injured when the awning of a bar hit her in Calle Cuesta del Rosario. She was treated at the scene and then transferred to the Virgen del Rocío Hospital.
In the province of Huelva, 36 cases of wind damage and flooding of streets and basements were reported. The municipalities of Almonaster la Real, Almonte, Aracena, Ayamonte, Cala, Hinojos, Huelva, Isla Cristina, Los Marines, Lucena del Puerto, San Bartolome de la Torre, Cortegana, Galaroza, Rociana, Jabugo, Valverde del Camino, Villablanca and Zalamea were worst affected. The most serious event of the day was in Hinojos, when a council worker lost his life after being struck by a branch while clearing a pine tree that was at risk of falling.
In Cadiz, in addition to the capital, Jerez de la Frontera, La Linea de la Concepcion, Conil de la Frontera, El Gastor, Los Barrios, Puerto Real and San Jose del Valle reported a total of 25 incidents; while in Cordoba listed eight incidents in the capital, Hornachuelos and La Granjuela.
In the eastern area of Andalucia, the majority of incidents involved falling trees, branches, trees, signage and street furniture were reported, as well as traffic accidents.
Malaga province logged 25 requests for assistance from Antequera, Benalmádena, Casabermeja, Coín, Fuengirola, Igualeja, Marbella and Montecorto. In addition, the capital of Malaga partially activated its Municipal Emergency Plan.
In Jaen and Almeria, with 11 emergencies each, incidents were reported in the capital and Porcuna, as well as from Berja, Mojacar, Carboneras or Macael, among other Almerian localities. The municipality of Sorbas suffered power cuts while in Granada province (six incidents) it was the towns of Alhama de Granada, Diezma, Monachil and Sorvilan that were most affected.
Adverse weather warnings will remain in place until at least Monday, March 5.
The 112 Andalucia emergency control centre has released a video with some recommended self-protection guidelines that can contribute to improving your safety security.
They particularly recommend removing items from terraces and balconies items that can be dragged by the force of wind or rain such as pots, decorative plates, chairs and tables.
Mañana se esperan lluvias ☔ ? y tormentas ? ⛈en gran parte del territorio andaluz. La jornada festiva estará marcada por las lluvias ¡#Protégete! ‼Échale un ojo ? a estos #Consejos112 que salvan vidas. pic.twitter.com/g2YaESHn8f

— Emergencias 112 (@E112Andalucia) February 27, 2018
#Bomberos ha realizado hoy en #Sevilla unas 60 salidas, en su mayoría relacionadas con la climatología adversa #Emma.
Ningún incendio ni daños personales. Sólo un #Bombero lesionado leve en una intervención con motosierra pic.twitter.com/o6v9CTLNFt

— Emergencias Sevilla (@EmergenciasSev) February 28, 2018