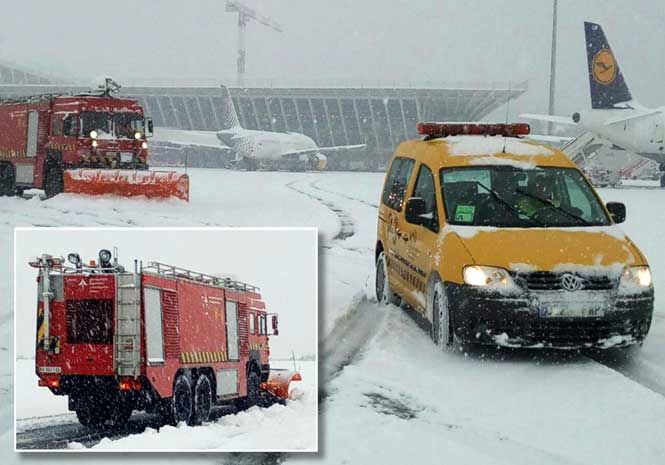 WINTER weather across the north of Europe is hitting flights hard in both the UK and Spain.
Bilbao airport in northern Spain has seen dozens of cancellations after the runway was close. The fire brigade was drafted in with snow ploughs to help clear the snow.
One Iberia flight from Madrid return to the Spanish capital after being unable to land.
In the UK, London City airport has been badly hit with some flights diverted to London Gatwick, Southampton and Birmingham and a flight from Luxembourg returned to its departure airport. Other flights to the airport have been cancelled and at least 30 outbound flights have been cancelled.
At Leeds Bradford airport Flybe and Ryanair have each cancelled eight flights.
Ryanair has issued a statement saying, "As a result of adverse conditions this morning some flights were delayed in operating as the airports cleared the snow. We expect further delays and some cancellations and we recommend you check the status of your flight before leaving for the airport."
Flybe said, "Adverse weather has been forecast over the next few days with the potential to impact travel across large parts of the UK, and in such weather, airports may either close temporarily or restrict the number of arriving and departing flights. Flybe, like every airline, has itself minimum acceptable weather conditions in which we can safely operate. Please be assured that we will be doing our best to ensure that flights will operate as normal, taking into consideration any adverse weather conditions. The safety of our passengers and crew remains our number one priority at all times."
Jet 2 has tweeted, "We are currently advising travel as normal, and would notify our customers should there be any updates."
Gatwick Airport has announced, "Flights are arriving and departing from Gatwick as normal. We have had some snowfall overnight so we recommend that you check the status of your flight with your airline and also allow extra time for your journey to the airport if needed."
And Heathrow Airport posted on Twitter, "Our teams have been clearing snow throughout the night and as a result our runways are open. While wintry weather may result in minor delays and some airlines consolidating flights, we don't currently expect significant disruption today."
Because the disruption is caused by adverse weather, passengers whose flights are cancelled or heavily delayed are not entitled to cash compensation but the airline has a duty of care towards passengers affected.
Aeropuerto de Bilbao: se están realizando labores de limpieza de la pista por nieve. Posibles demoras en las operaciones. Consulta con tu compañía aérea el estado de tu vuelo.

— Aena (@aena) February 28, 2018
Trabajando para recuperar la normalidad en el aeropuerto de Loiu #suhiltzaileak @aena ?

Loiuko aeroportuan normaltasunera itxultzeko lanean #suhiltzaileak @aena ? pic.twitter.com/kEOPiU3uu5

— Bomberos Euskadi (@BomberosEuskadi) February 28, 2018