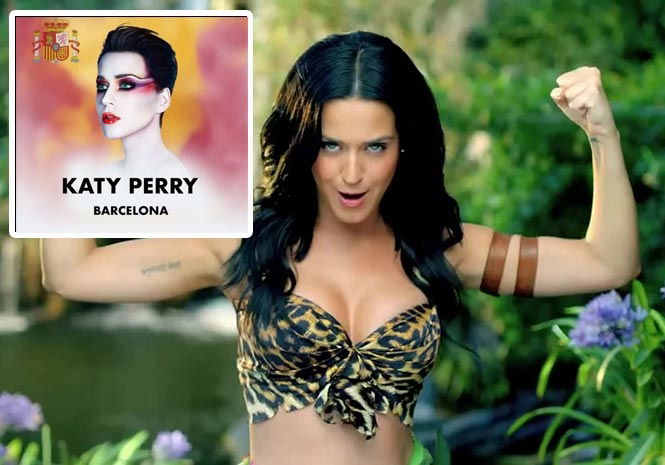 POP superstar Katy Perry has been slammed by Catalan separatists.
The rap comes after the I Kissed A Girl hitmaker, 33, used a Spanish coat of arms to promote an upcoming concert in Barcelona.
And she sparked outrage after posting a video on her social media accounts.
Featuring an image of her head with the shield in the top corner, the clip also includes the red and yellow colours of the Spanish flag in the background.
The singer captioned the advert: "Trust and believe I'm coming for you too Barcelona See you June 28."
But she faced a furious backlash from supporters of independence in the troubled region.
More than 1,100 people reacted on Twitter, and one angry poster wrote: "What a stupid woman. You are coming to Cataluña not Spain you son of a b****."
And another added simply: "You are an idiot."
The criticism drew a response from fans in favour of a unified Spain, with one writing: "Barcelona has been a part of Spain for centuries, is a part of Spain today and will be part of Spain for many more centuries!"
Another posted: "Ole for posting the flag."
The Barcelona gig is the star's only Spanish date on her Witness world tour, which began in Canada last September.
Tickets, which cost up to €104, are due to go on sale on March 7.
Cataluña remains without a regional government in the wake of an enforced election in December.
The poll was imposed by Madrid in the wake of an illegal independence referendum organised by pro-separatist politicians.
Ousted Catalan president Carles Puigdemont remains in Belgium and faces arrest if he returns to Soain, while a number of his former allies have been jailed.
Trust and believe I'm coming for you, too, Barcelona ?⚡See you June 28! ? on sale March 7! pic.twitter.com/PQT1Yd1t66

— KATY PERRY (@katyperry) February 27, 2018