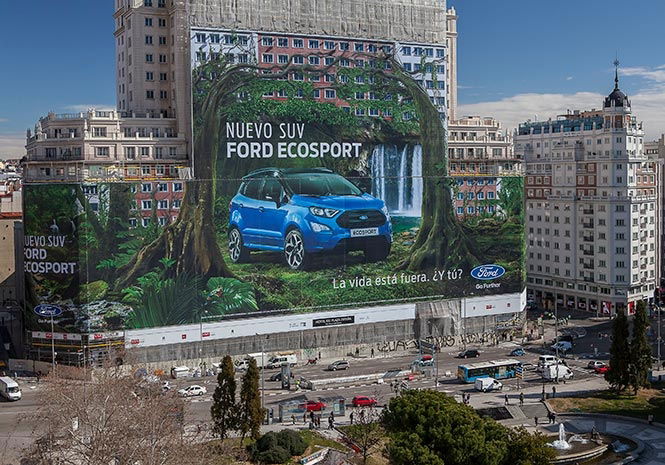 FORD has achieved the Guinness World Record for largest billboard with a new advert in Madrid.
The billboard, which advertises the brand new Ford Ecosport is plastered on the side of the Edificio España building, the eighth tallest in Spain.
Measuring 5,265 metres, approximately 20 tennis courts, and weighing 2,000 kilos the board eclipses the previous record set in Dhahran, Saudi Arabia in 2014.
Director of Marketing for Ford Spain, Elena Burguete, said: "Our Guinness World Records title for the largest billboard demonstrates the creativity that drives our company.
"Ford's message is 'Go Further', and that's what we aimed to do with our campaign for the launch of the new EcoSport. It's a great way to deliver the message 'Life is out there, are you?' to as many people as possible, right in the heart of Madrid."
When the advertising campaign ends at the end of the month, it will be donated to the Apascovi Foundation employment centre for people with disabilities who will re-use all of the materials for other projects.