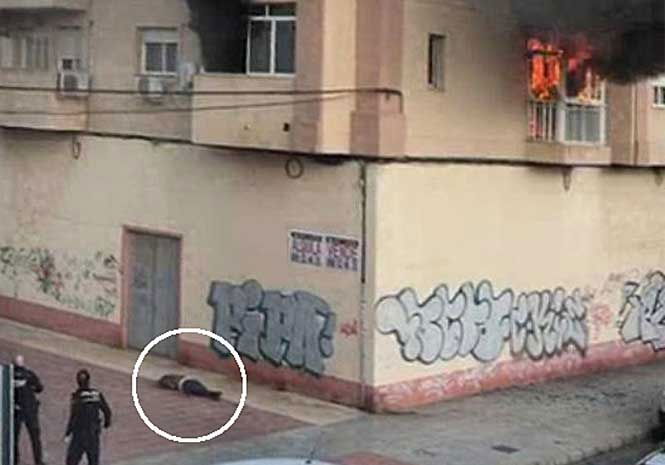 POLICE in Spain have attempted to defend their actions after a video appears to show officers 'ignoring' a man lying unconscious on the ground after leaping from his apartment to escape a fire.
The 40-year-old man jumped around six metres from his first-floor balcony and lay unconscious on the pavement as officers appeared to ignore him.
He is now an intensive care unit in hospital in a critical condition.
The incident happened in Calle Espinosa in the San Anton neighbourhood of Cartagena in southern Spain.
A video shot by a neighbour shows that, for more than two minutes, members of the Local and National Police forces ignore the critically injured man lying on the ground.
However, the Local Police of Cartagena say that the video 'is only an extract' of what happened, and that, moments before the officers, immediately after arriving at the scene, had approached the person to check their status, and, once they found that he was unconscious, and did not respond, called the health teams to act.
The Local Police stress that its officers are trained in first aid and say that 'a person in that state cannot be moved because of the risk of causing more serious injuries.
Therefore, they say that the actions of the officers 'was the correct one'.