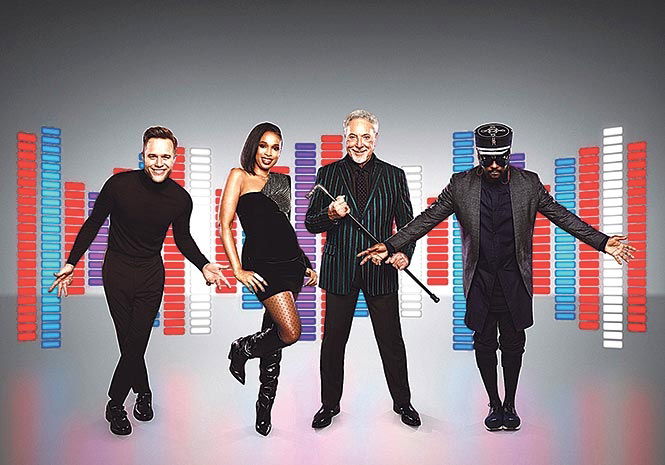 THERE seems to be a concerted effort by the BBC to bring American football to the British sporting masses? 
I applaud the coverage shown on Sunday at some ungodly hour for the Super Bowl, and I realise it's a big deal in America, but to headline it on the sports news the following day. Why? Not too many people are interested except the odd fan.
There is only one football and it doesn't have American before it! We also have rugby in two codes – union and league – both of which are much more entertaining and British.
I prefer The Voice (ITV Saturdays) to the X Factor. Although the judges are far more famous on The Voice they are also more humble and don't love themselves as much as the X Factor pretenders.
Will.i.am, Jennifer Hudson, Olly Murs and the great Sir Tom Jones come across as genuinely seeking singing talent that they personally like and can improve. The banter between the acts, with themselves and the audience really appeals.
I also love the ad-lib jamming that they all do and last week we had an impromptu rendering of 'It's Not Unusual' live by Tom which was fantastic. His own voice has lost none of its strength and he is held in awe by the three other judges as well as myself. Yes indeed Tom, a true legend!
What can you say about Casualty (BBC1 Saturdays)? Firstly, it's not my usual fare on Saturdays but I occasionally watch it. It's been going so long the early operations were performed using ether as the anaesthetic, and they even had a contract with Burke and Hare for supplying specimens to practise on. 
Good old Charley, (Derek Thompson) the only surviving original cast member on the show, was a sprightly young man at the series onset and him and Duffy (Kathy Shipton) seemed to always have a thing for each other so marriage was inevitable. Still, the hospital staff always go the extra mile, much further than a normal hospital in the UK would, but it seems there's a good following or the Beeb would have pulled the plug ages ago.
Who wouldn't want to stay at Mary Berry's house for a week or two? Her Saturday lunchtime cookery show on BBC1 has me drooling at the screen. Apart from her fantastic food recipes she comes across as a nice person. The rack of lamb she produced last week had me scrambling to open a tin of beans as soon as the show finished. Still judging by the size of the house and gardens either her cooking or character has paid dividends, or her husband's not short of a few bob. Good luck to her whichever, she deserves it and is fabulous.
It's obvious Morse was as miserable in his early police career as he was in later life, judging by ITV's Sunday evening prequel, Endeavour. I have to admit his fledgling police career is more gritty and the nostalgia of early policing methods and the 60's feel swings it for me, even though there was only one John Thaw.
Shawn Evans plays the young Endeavour Morse well, and in this episode he had just been promoted to a DS before going about his business hunting down murder suspects which are connected to a horror film set at the local flix. There's also an influx of racist attacks which seem to escalate.
Morse and Inspector Thursday hunt down their prey in a relaxed manner, ably assisted by the usual forensic scientist describing the victim's injuries in colourful detail after examining the bodies. 
Not seen much of the Winter Olympics this time round (BBC1 and BBC2, various times), although I don't think many people have. The usual problem is that it's not cold enough and there's not enough snow, but Korea seems to be the opposite! Oh well, at least we have had a lessening of hostilities between the two warring factors north and south, both actually presenting a passable united front and sitting down to talk. Progress I hope.