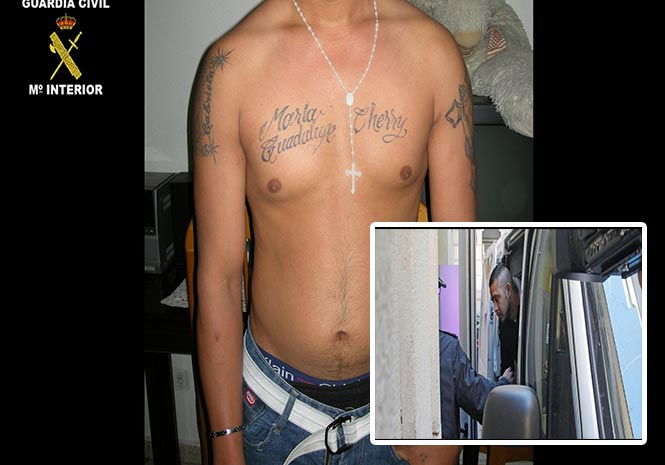 A COURT CASE involving 35 members of MS-13, the murderous street gang also known as Mara Salvatrucha, is underway on the Costa Blanca.
A total of 12 sessions are scheduled for the trial, which will run until May, with the defendants facing prison sentences of two to 30 years for a range of charges including illegal weapons possession, attempted murder, conspiracy to murder, money laundering and drug trafficking.
It comes after a major police sting saw investigators swoop on the gang's Spanish headquarters in Ibi, Alicante, plus cells in Madrid, Barcelona and Gerona in the wake of a wiretapping probe.
The crackdown was designed to stop the organisation from expanding its operations in Spain, where it had been receiving funds from kingpins in the dangerous Central American country of El Salvador.
It also prevented the assassination of two people, including a man who witnessed the stabbing of a Romanian member of the Latin Kings – an enemy crew – in Alicante Port.
Among those on trial are several local bosses, who allegedly orchestrated violent territorial battles with rival gangs and set up drug trafficking networks.
But the majority are 'soldiers,' many of them children, who committed robberies and other petty crimes to pay the monthly membership fee of €100.
They would pass an initiation rite during which they were brutally beaten for 13 seconds before being given a 'placa' (nickname) and accepted into the gang.
According to reports, defence lawyers have already negotiated a number of reduced sentences in exchange for confessions, although this has not yet been made official with the trial due to recommence on Thursday March 8.
Originating in Los Angeles, United States, most MS-13 members are from Central America, particularly El Salvador.
They are famed for the tattoos covering their bodies and their motto 'Mata, roba, viola, controla' (kill, steal, rape, control).
The gang is mostly active in the United States, El Salvador, Mexico, Guatemala, Honduras, and Canada, and was planning to gain a foothold in Spain, according to detectives.