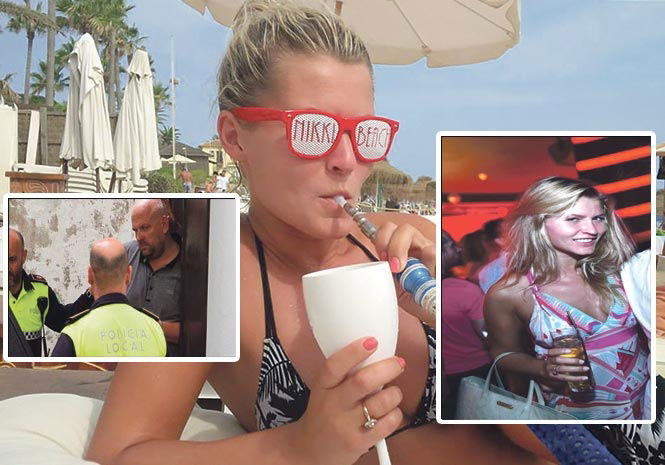 TWO British men charged with the disappearance of a woman from a Costa del Sol nightclub are to stand trial 'within the next few weeks.'
It comes as lawyer Fernando Scornik Gerstein, prosecuting, reiterated earlier claims that the body of Latvian waitress Agnese Klavina 'was thrown into the sea, most likely off the coast of Murcia.'
The then-30-year-old vanished on September 6 2014 after leaving a trendy Marbella nightspot with expatriates Westley Capper, 39, and Craig Porter, 35, who could each face 12 years in prison if found guilty of abduction.
CCTV footage shows Ms Klavina being bundled into a car by the pair around 6am, and she has not been seen since.
A doorman from the club will also stand trial after the video revealed that he held the car door closed as she tried to escape.
The men have admitted leaving with her, but Porter claims to have fallen asleep as soon as he got into the car, while Capper said he had left her near her flat in San Pedro de Alcantara before contradicting himself during a reconstruction, leading a judge to describe his statement as 'improbable.'
But a lack of evidence saw Essex-born Capper, the privately-educated son of a multi-millionaire, and Liverpudlian Porter released from custody. After leaving the Marbella courtroom the men parked their car in a space reserved for disabled drivers as they enjoyed a celebratory drink.
Increasingly convinced that Ms Klavina was dead, investigators swooped on a yacht owned by Capper and moored at the Tomas Maestre marina in La Manga, Mar Menor. They found that just a few hours after the victim's disappearance, Capper and 'several other people' drove to Murcia to collect the boat before setting sail for Fuengirola, arriving on September 8.
A day later they moored up at La Duquesa in Manilva, and early on September 10, Capper, Porter and two unidentified individuals were captured on video as they dragged a heavy suitcase aboard. 
On September 13 Capper and Porter set sail for Ibiza but ended up docking at La Manga after claiming that the vessel's engine had failed.  Then on September 15 they returned to Marbella by car.
In May 2016 – just a month after being charged in the wake of an 18-month probe into Ms Klavina's disappearance – Capper was involved in a drunken hit-and-run in San Pedro de Alcantara.
Bolivian mother-of-three Fatima Dorada, 40, was killed after the UK-registered Bentley he was driving careered into her.
Capper and Porter – who was also in the vehicle – fled the scene and were held at an Indian restaurant where they had been drinking vodka and tonic. Both men tested positive for alcohol and cocaine, and Capper could receive an additional manslaughter sentence when a trial is scheduled.
He was remanded in custody before being released on bail three months later.