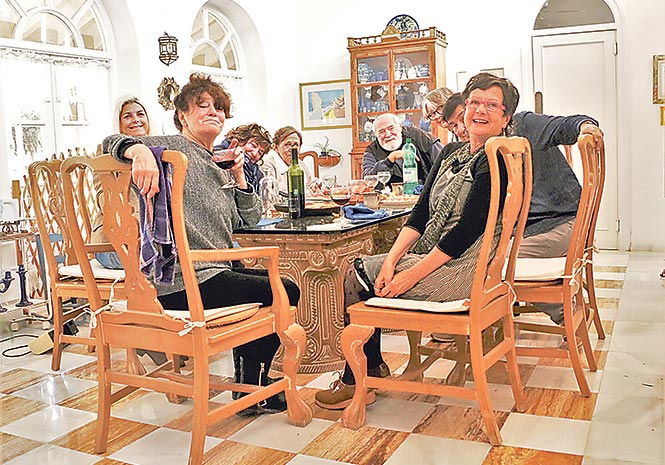 IF the days appear grey and similar this winter, that's because they have been.
Sometimes it is sunny but cold and others grey and cold. That's when we need wine and friends most. 
The pueblo's best ambling ambassador has solved that. She organises lunches at the culinary school where one can enjoy a taste of Mojacar's best 'casera' (home-made cooking) and gourmet plates done by students and equally presented by them. You get a taste of so many wonderful dishes, never even dreamt of by the common man. 
Wine appears too. Delicacies I've never heard of but the school give you a chance to sample and enjoy. Starters often are three different dishes with distinct flavours. You are given a complimentary menu so you can keep score of the culinary treats. Booking can be difficult so I would go to Dominique. 
She arranges a table for 10 each month. She generally has two to four extra seats. Call her on 610 699 506 to attempt to book for this month or next. Her table is always full of interesting people.
Then, Dominique runs into me at the Parque Commercial saying she has been looking all over for me. She has met many new people that she wants me to meet therefore she needs my house for a luncheon. 
It's agreed, two weeks later cars start arriving and people begin presenting themselves and handing over trays of food and bottles of wine. I have a nice sun room and we all talk there finding out where each is from, how did they find Mojacar and who else they might know so we have a commonality. 
No one is in a rush to eat so we all relax in the sun and knock back bottles of wine. It's cold outside so everyone is drinking red. We are two Americans, hosts; four Spanish (two artists: painter and sculpture) two from the Basque Country opening a place in the village called Viento del Norte; French Dominique, Mojacar's most famous ambassador and Delphine, another charming French personage who has opened a restaurant on the beach part of Tito's called Magnifique; and the former town hall ombudsman and tourist guide British Lesley. 
We all hold in common the language of Spanish and talk loud and incessantly.  
But the real excitement started when we sat down to eat. Hotel Ritz type canapés were brought by the Basques. Of course the restaurants were not to be outdone by amateur preparations and the French produced some exquisite quiche. The Basque renown for tapas brought up tortilla de chorizo, moist and succulent. 
Dominique a renown good cook had crepes filled with fish and gambas inside. More wine all around. We all ate and ate to fullness. Then fine cheeses appeared with more wine and then cakes. How we all suffered and could barely talk. Satiated and delightfully replete. Even the brandy would have to wait while we got our breath back.