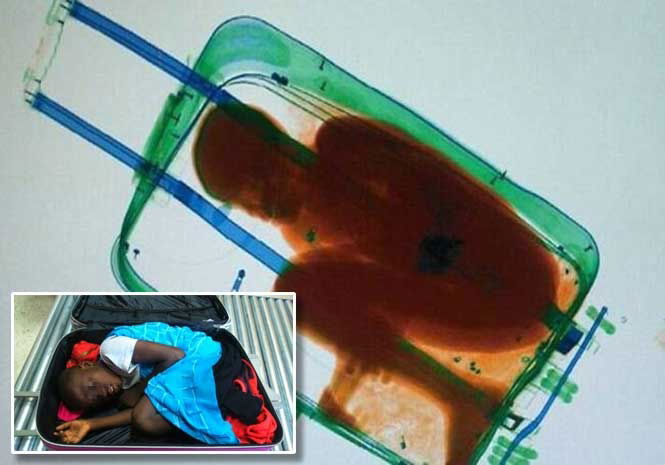 A MAN accused of trying to smuggle his son into Spain in a suitcase goes on trial today.
Ali Ouattara goes will face the courts in Ceuta, a Spanish overseas territory in northern Morocco.
In 2015 eight-year-old, Adou, was found crammed into a suitcase at a Spanish border crossing.
The Spanish police suspicions had been raised when they saw a young Moroccan woman dragging what looked like a heavy suitcase across the border.
When they put the suitcase through an X-ray machine they were shocked to see the silhouette of a child in a foetal position.
The boy's father, Ali Ouattara, had arrived illegally in Spain in 2006, making the journey across the Mediterranean by boat.
He got a job and home in the Canary Islands, and was able to bring his wife and daughter over legally. But four times the Spanish authorities refused to let him bring over his son too.
In May 2015 he had been waiting for his son, Adou, on the Spanish side of the border but was arrested shortly after the police discovery.
Ouattara said he was misled by the traffickers who charged him €5,000 euros and did not tell him his son would be hidden in a suitcase.
He claimed the traffickers had initially promised to fly the boy from the Ivory coast to Madrid but then told him they would instead travel via Ceuta by car.
Ouattara's wife, daughter and Adou are now living in France, but Ali is still in Spain as he is banned from leaving the country pending the trial.
Prosecutors are seeking a three-year prison term for Ouattara for facilitating his son's illegal entry into Europe and endangering the child's life.