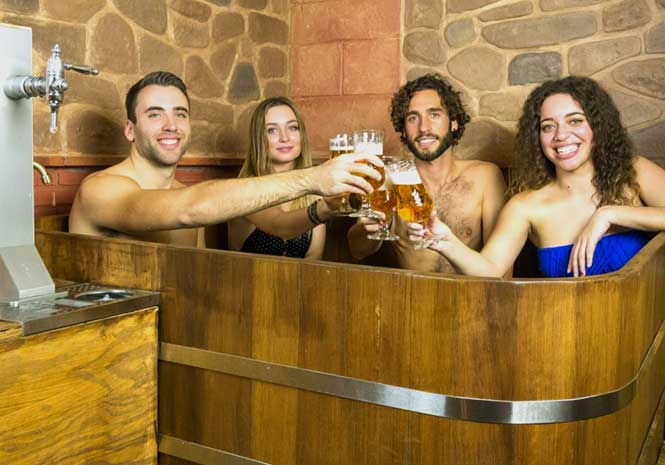 IF you've been keeping things bottled up and need to escape for a barrel of laughs a new beer spa in Spain might just be what you need.
Spain's first-ever spa for beer-lovers has opened in Granada and you could find yourself in over your head if you want to immerse yourself in the frothy liquid.
According to Beer Spa, the benefits are many and claim the beer bath relaxes muscle tension, prevents ageing of skin, reduces stress and helps eliminate toxins and from the body.
The baths of beer contain hot water to which yeast, hops, malt and cinnamon are added and it only takes 20 minutes submerged in the barrel for the ingredients to act on the skin.
And what to do while you bathe in the beer spa? Well, of course, you could drink the famous, locally-brewed Alhambra beer so you end up revitalised both inside and out.
As well as the beer bath that you will find body treatments as well as massages.
There is also a sauna – so no draughts there!
And a barley bed where you can relax on a bed of fresh barley which the skin absorbs.
There are already plans in the pipeline to open other beer spas in Spain with plans on the table for Madrid, Tenerife, Alicante, Marbella, Almeria, Lerida, Valencia and La Coruña.