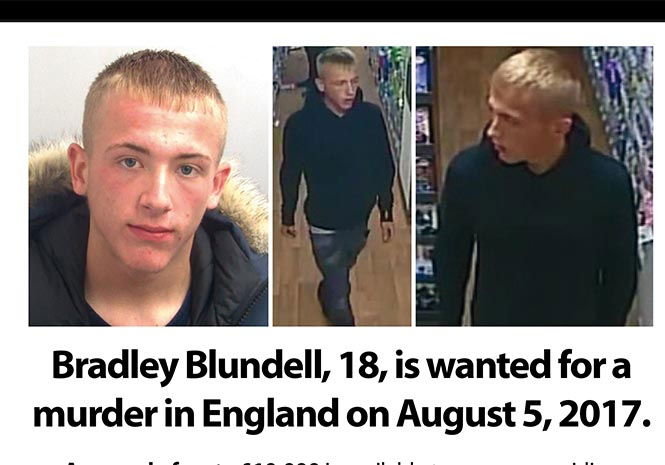 A REWARD of £10,000 (€11,000) is being offered for information leading to the arrest of a murder suspect Bradley Blundell who may be using Ibiza as a place of safety.
It comes as a teenager was cleared by a jury of killing a man outside a petrol station in Essex, England.
18-year-old Bradley Blundell is still at large, while two other teenagers have already been arrested and are on trial.
John Pordage was shot in the chest following a confrontation outside a BP petrol station in Chelmsford, in the early hours of August 5, 2017.
The 34-year-old died in hospital a short time later, despite the efforts of members of the public and emergency services.
A 16-year-old boy, who cannot be named for legal reasons, was arrested and charged with murder in connection with the incident. A second teenager, Saul Stanley, 18, was arrested and charged with various firearms offences also in connection with the incident. The pair stood trial at Chelmsford Crown Court on Monday January 15.
On Friday February 9, the jury found the 16-year-old was not guilty of murder or manslaughter. Stanley was found guilty of two counts of possession of a prohibited firearm, one count of possession of ammunition without a certificate and perverting the course of justice.
Detectives are still keen to trace 18-year-old Bradley Blundell in connection with the murder of John Pordage. He was last known to be living in Chelmsford, Essex. DCI Pasmore said: "We've received information to say he may be using Ibiza as a place to hide, although it is not known where he is at present.
We have also had information to suggest he has friends who regularly visit Ibiza. We remain determined to locate Bradley Blundell and bring him to trial. "
"We also have a European Arrest Warrant in place to facilitate his capture and there is a reward via the Crimestoppers charity for up to £10,000 for information leading to his arrest".
To be eligible for the reward of up to £10,000, please contact the Crimestoppers charity 100 per cent anonymously. Anyone in the Balearic Islands or Spain who has information about Blundell's whereabouts can call Crimestoppers on Freephone 900 555 111 or use the anonymous online form at www.Crimestoppers-uk.org