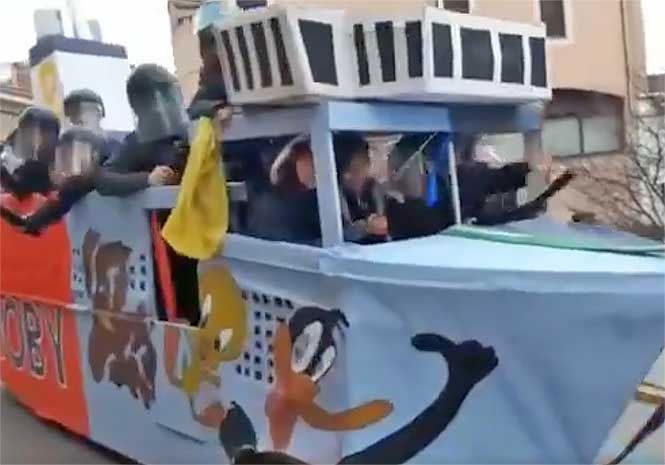 A CARNIVAL float in Spain has sparked controversy after a dozen children were dressed as baton-wielding Spanish riot police.
The float was styled on the cruise ship that housed National Police and Guardia Civil officers that were deployed to Catluña during the illegal referendum that erupted into violent clashes last October.
Around a dozen kids dressed in riot gear and armed with batons were on the float, that also carried the independence flag, inthe town of Torrelles de Llobregat.
A Catalan anti-independence group, Societat Civil Catalana, denounced the float as "unbelievable", while others complained secessionists were "using" children for political purposes.
Pro-independence Catalans have shrugged off complaints, accusing critics of hypocrisy at a time when anti-secessionist parodies are proliferating elsewhere in Spain.
En la escuela catalana no se adoctrina. Nunca.
Por eso, en el carnaval de Torrelles de Llobregat baja un vehículo caracterizado como el barco Piolín, con simbología indepe, y repleto de niños disfrazados de policías.
Lo normal. pic.twitter.com/EdB5oZojVd

— Guaje Salvaje (@GuajeSalvaje) February 5, 2018