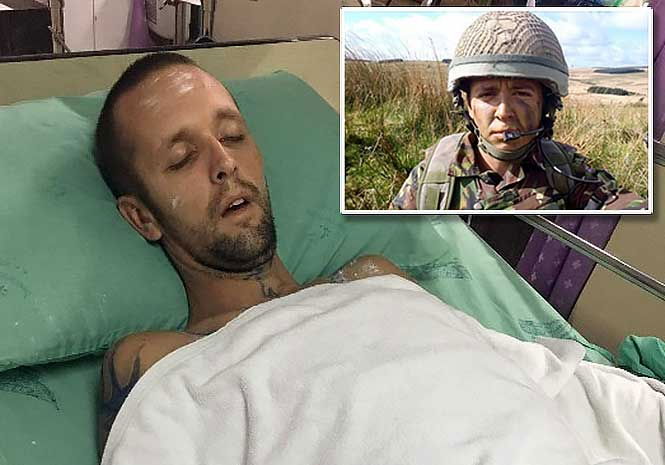 AN URGENT appeal to repatriate a sick, former Gibraltar soldier with his family in Spain is almost halfway towards its £20,000 target in just three days.
And this morning the British Foreign & Commonwealth Office confirmed to the Euro Weekly News, "We are assisting a British man and his family following his hospitalisation and arrest in Thailand.
"Our staff are in contact with the Thai authorities."
Adam Williams, a former Lance Corporal in the Royal Gibraltar Regiment, is being kept 'drugged and shackled to a hospital bed' in Thailand according to his family.
They say their son, aged 30, is suffering from a nervous breakdown and allege he was beaten and robbed and then arrested for reasons they do not know.
On a Go Fund Me page, they have posted a photograph of Adam they claim was taken in a Phuket hospital. But when the Euro Weekly News contacted local media in Phuket they said, "We have no record of this, can you confirm the incident took place here and he is actually in Phuket?"
Friends who have donated to the fund have also been sending messages of support, including Michelle Rogers who touchingly wrote, "Let's get sharing everywhere and get our boy back where he belongs. Our hearts go out to you and the family Adam. Stay with us we will get you back xxx."
On the Go Fund Me page Adam's parents wrote: "On Christmas Eve our son, a former soldier, Adam Williams was robbed of all his possessions, hospitalised and arrested, whilst holidaying in Thailand.
"Adam had been saving for a year, excited to go travelling upon finishing his 10 year career with the Army. With his savings, he ventured across Malta, Sicily, and Rome, before meeting up with his old high school friends in Thailand. Adam had a great time in Thailand however, with Christmas approaching, his friends decided to return to the UK and Australia. Adam stayed in Thailand on his own.
"It wasn't long after Adam's friends left that he was robbed of all his possessions and assaulted by persons unknown to him. During the incident, the police arrived. The assailants were never caught, but our son was taken by the police, whereby he was hospitalised for treatment of injuries and later moved to jail on remand – we don't know why.
"Having been assaulted, robbed, arrested, and incarcerated in a foreign country, with no understanding of the language, Adam understandably suffered a mental breakdown.
"He has been on remand since New Year's Eve drugged, and shackled to a hospital bed.
"We are desperate to get our son home. The Thailand Medical services have quoted £20,000 for a medical repatriation where he would be accompanied by a doctor. This expense is an overwhelming financial burden.
"We ask for you to contribute anything you can to help us bring Adam home.
"Thank you for your support."
To help repatriate Adam with his family visit the fundraising page: https://www.gofundme.com/bxrw3s-help-bring-adam-home