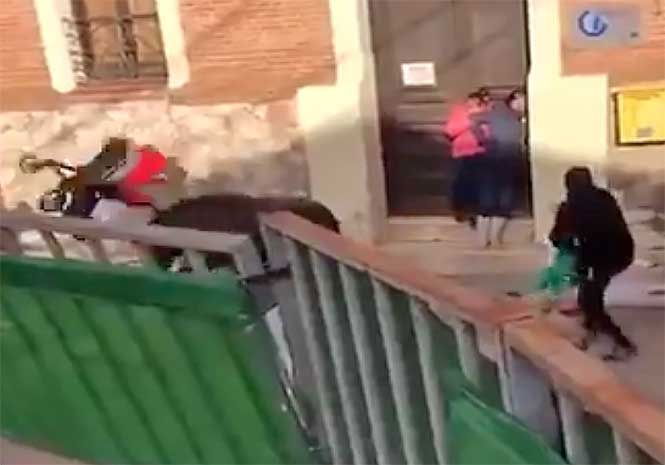 A TERRIFIED bull broke through safety barriers at a bull run in Spain and flung a kid's pushchair through the air.
Luckily there was no child in it but it did lead to the cancellation of the event after authorities said appropriate safety measures were not in place.
Another child can be seen, all alone, taking shelter on a window ledge as adults and police took cover.
The shocking scene was captured in Iriepal in the province of Guadalajara in the Castilla La Mancha region.
One person was reported injured as the frightened bull was brought under control.
Organisers decided to cancel the event leading to 'small disturbances' and insults being shouted at them.
AnimaNaturalis tweeted, 'What else has to happen for these to end.'
Councillor Susana Martínez said, "There is a paradox that Guadalajara has the UNICEF seal of Child Friendly City.
"It is of no use to have this seal if, in our policies, we do not care about something as basic as ensuring the protection and security of the children."
Bull runs are common in many towns in Spain where streets are cordoned-off to create a path for the animal. But there are reports of deaths most years at the events which are popular with both locals and tourists alike.
[⏩VIDEO] Toro embiste carro de bebé vacío y arrincona a menores #Iriépal #Guadalajara#MisiónAbolición ? #LeyCero pic.twitter.com/roAK65njwv

— Veruka (@verukawww) February 6, 2018