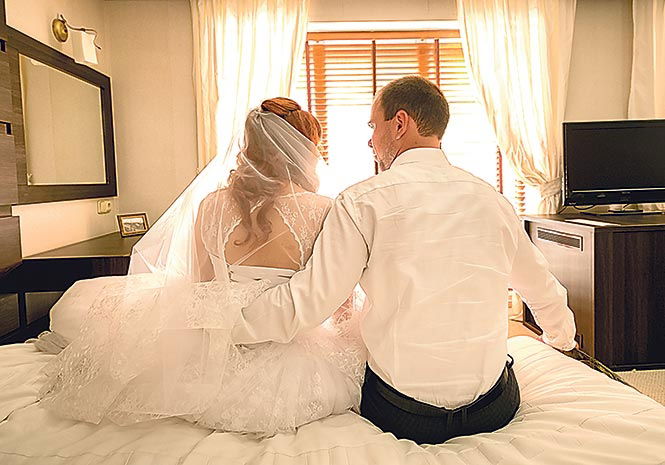 I TRUST you have all been poised on the edges of your seats, desperate to discover the outcome of last week's saga of 'stag party shenanigans'?

For the uninitiated, this involved our tale of the somewhat extreme party frolic, which resulted in the unfortunate groom, not only getting married, but subsequently leaving for his honeymoon wearing a plaster cast prepared by hospital colleagues. Our unsuspecting hero had been convinced that, while firmly under the influence, he had actually broken his arm. 
Naturally, on his return, when the conspiracy was finally revealed, he had not exactly been a happy budgie! As time passed however, all appeared to have been forgiven and forgotten. So, if you're all sitting comfortably, I'll begin. 
We now move forward some six months, where we find his friend, the main instigator of the 'cast' incident, somewhat tentatively looking forward to his own betrothal! As the date became closer, he naturally became increasingly nervous, racked with trepidation as to what form of devious revenge his former 'victim' was almost certainly concocting. 
By the time he arrived at his own stag night, he was practically a mental basket case – and still nothing untoward had occurred. To his amazement – and relief – the stag night also brought no unpleasant surprises and he duly retired, more than a touch relieved, that his friend appeared to be seeking no retribution for his somewhat ill-conceived party joke of yore.
His subsequent marriage day also passed without incident, but it was not until he and his new bride actually relaxed on the plane bearing them to Mauritius, that he truly felt he was in the clear. He decided to put all his fears behind him and enjoy his honeymoon to the full; albeit perhaps remaining a little wary of anything they may be planning on his return.
Arriving at their luxurious hotel, they were duly shown to the honeymoon suite and proceeded to enjoy the beginning of their special holiday.
That night the newlyweds retired early. Sharing together all the dreams and intimate exchanges of the recently betrothed, they finally drifted off into happy contented slumber. The next morning they awoke bright and early. 
After giving his bride a very special 'wake up call,' the new groom decided to ask for breakfast to be served in the room. Reaching for the phone he dialled room service. 'Hello' he enquired pleasantly. 'Could you please send us up breakfast and a pot of tea for two'? He then froze. 'You'd better make that three,' came a barely disguised triumphant voice from under the bed! Yep. You've guessed it. Beneath the marital bed is where his 'pre-plastered' friend had spent the whole of the previous night. All their most intimate thoughts and moments of passion had been shared with his unforgiving, but now euphoric, stag party victim! Doesn't that just warm the very cockles? Sweet and utterly satisfying revenge.
Back to normal next week.
Keep the faith
Love Leapy   
Leapy Lee's opinions are his own and are not necessarily representative of those of the publishers, advertisers or sponsors.