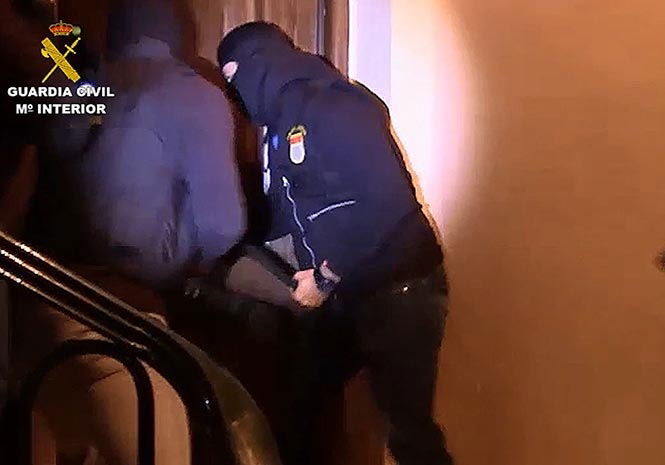 FOUR people who allegedly forced women to become prostitutes in a system of "semi-slavery" have been arrested by the Guardia Civil. A fifth person is also under investigation.
The Melilla-based gang made the Moroccan women, some of which were children, pay once they got pregnant to find Spanish men who could claim to be their baby's father.
The three men and one woman behind the trafficking network did this so their children would be Spanish nationals once born, according to police accusations.
Police seized three kilos of hashish, doses of cocaine prepared for consumption, cash, mobile phones, documents and passports in a raid on two floors of a building in the city.
The investigation began when the Guardia Civil discovered the existence of the network which they said recruited undocumented Moroccan women in the Spanish enclave in order to exploit them.
The women were struggling to make ends meet for themselves and their families and had little if any chance of finding work without documentation.
Once the gang met the women they were then taken to a building where they were kept and forced into prostitution. The two floors of the building were also used to sell drugs and contraband tobacco and alcohol.
The women were made to practise sex work according to a non-stop schedule and were forced to take drugs to keep them going. They were also encouraged to sell them to their clients, according to reports.
Police allege the women had no freedom under what they said was a regime that resembled slavery. They were also charged for staying in the building and for its maintenance, leaving them with little money left over.
Some of the women who became pregnant were made to look for Spanish men who could be registered as their baby's father.
 The child would then gain Spanish citizenship and the mother a residency card. The women were made to pay for this process.
The alleged leader of the gang, a 40-year-old Moroccan national, controlled the price and number of services the women were made to provide.
He has now been arrested along with the other suspects and proceedings have been sent to a court in Melilla.