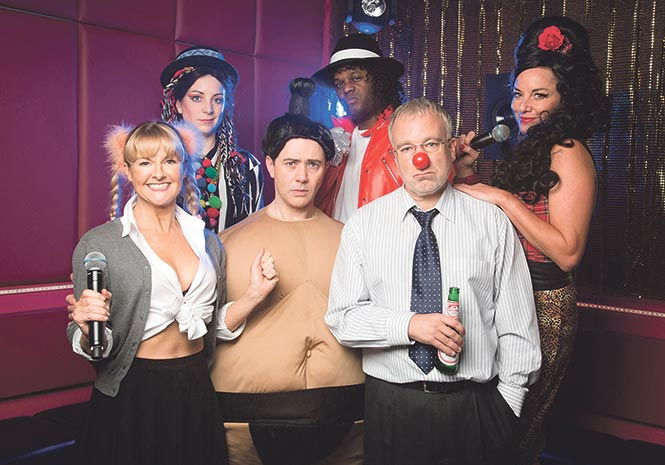 INSIDE NO 9 (BBC2, Tuesdays, 10pm) is in its fourth series and arguably the best yet.
Written by Reece Shearsmith and Steve Pemberton of League Of Gentlemen fame, it's a dark comedy anthology coming in self-contained 30-minute episodes. 
I didn't take to the League Of Gentlemen so it was with much apprehension I gave No 9 a chance, I'm so glad I did. Stand out episodes so far were Bernie Clifton's Dressing Room (episode two) about a lost show business friendship between two estranged comedy partners reunited for one last show. Bittersweet throughout, I have to admit the finale brought a tear to my eye.
To Have and To Hold (episode four) was the darkest of the lot. The basic story of an unhappy middle-aged couple with a brittle relationship was funny in itself, but the story had hidden depths to explore which came to its dark conclusion at the end. I leave the details out so that those who haven't enjoyed this brilliant series can catch up. For those who enjoy this type of drama, you won't regret it.
Piers Morgan's interview with Donald Trump (ITV, Sunday, 11pm) was hardly what you would call insightful. Morgan's soft-soaping of the president made for quite bland viewing. Nuggets such as Trump admitting he wasn't a feminist and his continuing scepticism over climate change was hardly headline news, and the pally interview style (Piers may as well have sat on Trump's knee) had me bored fairly quickly. I did stay to the end though.
Even though the interview was heavily advertised by ITV, it drew nearly a million less viewers than the BBC news at the same time. Even the previously publicised possibility of Trump apologising for re-tweeting far right group Britain First stopped short of an actual apology. His claims that he didn't realise what Britain First stood for did speak volumes however about his Twitter vetting procedure. Piers Morgan's abrasive and often aggressive style on Good Morning Britain (ITV, mornings) would have at least been entertaining.
Hidden gem of the week was Rhod Gilbert: Stand Up To Shyness (BBC2, Tuesday, 10pm) which was an exploration of social anxiety of which, surprisingly, Rhod has had since childhood. He described his own trials and anxieties and spoke to fellow comedian Greg Davies, a number of scientists and took part in activities meant to help his condition.
The finale was his mentoring of three fellow sufferers from South Wales in a challenge to perform stand up in front of a live audience. That they succeeded in putting two fingers up to shyness was a fitting climax and induced in me one of those 'feel good' moments.
A short plea for the BBC to bring back Miriam Margolyes', Miriam's Big American Adventure, (BBC1, Wednesdays, 10pm). Her final episode into Middle America to seek out alternative views to her own delivered in bucket loads.
From believers in creationism, the local alt-right group, to a visit to 'the most racist town in America', she encountered her opposites. The Ku Klux Klan refused to meet her but the pastor, who wouldn't meet face-to-face and instead relayed questions to her via a headset because she was Jewish, was stomach churning. The first female black sheriff in Texas was a positive end to the series. More please!
As Girlfriends (ITV, Wednesdays, 10pm) comes to a conclusion, we reflect on another success for Kay Mellor. Clever plots, sub plots and characteristic twists ensure interest is maintained. Another winner.