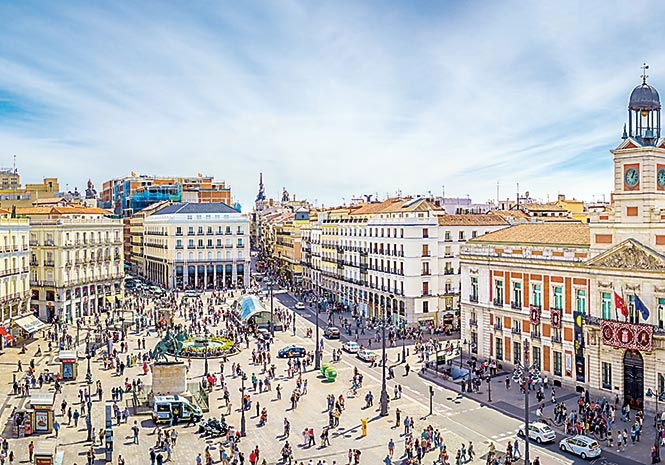 IN the early 1970's the most dangerous task you could contemplate or even attempt was driving to Madrid. 
The journey up wasn't bad, about six-seven hours, but once you hit the city limits all hell broke loose. A circus of Formula One racing augmented by blazing horns and lots of arm waving. 
Those that knew where they were going did so at the most breakneck speed imaginable and those confused had to endure their wrath and horn honking criticism of their fleeting friends. 
No mercy was granted unless, like us you had an Almeria-plated car. Then, everyone gave you a wide berth because they could see you were a yokel from the provinces, and therefore dangerous to the ebb and flow of their destinations.
The smart way to go is to arrive in the distant suburbs and park. Then you have the problem of getting a taxi from there and remembering where your car is so you can explain to the returning taxi. We did that quite a few times and I learned the way. That said, few happenings on this planet are more exciting than driving in Madrid for the first time. 
It isn't just the other cars but the town plan itself. Many of the roads change from four lanes to two just by going around a roundabout. The secret is, hold your line and other racers will adapt to you. Make no quick lane changes or swerves. Memorise that and live by it and you'll survive without incident. It's also a good rule for touring the rest of Spain.
Once in town there are plenty of inexpensive taxis to trot you about but in reality there are important areas (barrios) that need to be walked and investigated on foot. Once you learn just one favourite plaza, like Plaza Mayor in the centre, you can learn the other localities that are a must to know, which of course leads you to famed and reputed watering holes and restaurants. 
Driving your car around the capital is almost prohibitive not knowing where you can park or what roads have been recently blocked off for repairs. Making one wrong turn takes you into another world that you don't want to go or most certainly leave your car.
As we had children schooling there we came up frequently and got to know all the museums, parks and retreats. Madrid is an old town with always something new. And the historical places are a must to view, little by little. 
But it won't take you long to deduce that this is the capital of Spain and the 'capital of the world' as Hemingway so aptly penned. A town that never sleeps and wakes up ever so slowly.