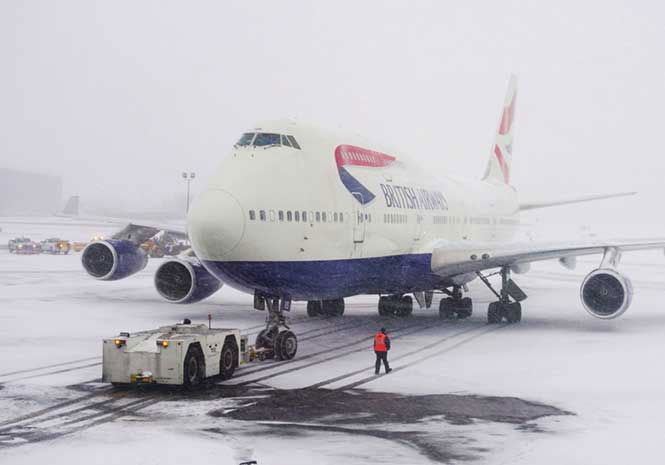 AIRLINE schedules are expected to be heavily disrupted as snow and ice are forecast across the UK this week.
British Airways has already cancelled more than 80 flights from London Heathrow and other airlines have been hit by long delays.
The airline said, "Due to forecast snow and ice across many parts of the UK today, we have proactively made some adjustments to our short-haul schedules.
"During cold weather conditions aircraft have to be de-iced prior to departure to ensure that they are safe and additional measures are taken to ensure the safety of our operation is maintained at all times.
"We are sorry for any disruption to our customers' travel plans and will do all we can to minimise the effect the weather has on our operations."
At Gatwick airport, a number of flights of other airlines were heavily delayed yesterday including an easyJet to Madrid.
AccuWeather senior meteorologist, Eric Leister, predicts, "Some of the coldest days of the winter will set the stage for disruptive snowfall across parts of the United Kingdom this week.
"While areas from Wales and northern England into Scotland will see the brunt of the wintry weather, a few snowflakes cannot be ruled out in London and parts of the Southeast.
"Accumulating snow will target Northern Ireland and Scotland on Monday night before shifting into Northern England and Wales by Tuesday morning."
He added, "Snow will continue mixed with sleet at times across Wales and Northern England Tuesday afternoon while also spreading into the Midlands.
"Snowfall of 1-5 cm (a coating to 2 inches) of snow is expected, causing slippery travel and potentially causing flight and rail delays.
"Wet surfaces will become icy and cause slower travel with possible delays to bus transportation."