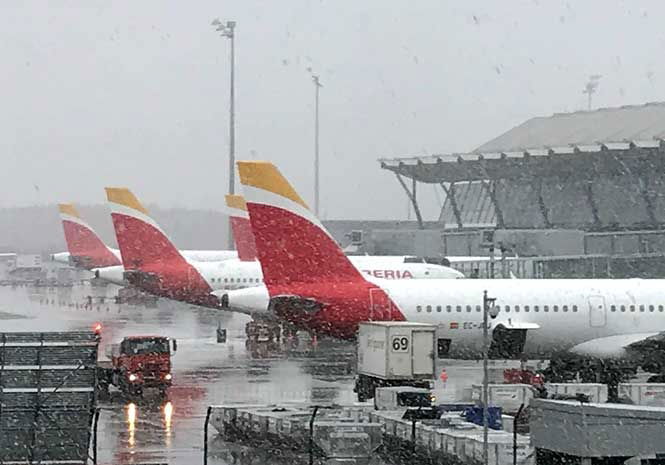 HEAVY snowfall and freezing temperatures across many parts of Spain are not just causing major problems on the roads but at the country's two main airports and on the high-speed rail network too.
Planes
Airports operator Aena has put is Winter Plan into action to try and ensure that runways do not freeze and snow doesn't accumulate.
At the capital's Adolfo Suárez Madrid – Barajas airport two of the four runways were closed this morning leading to a backlog of flights. It is understood that one runway still remains closed.
Twenty-five flights have been cancelled so far.
Problems have also been reported at the El Prat airport in Barcelona with 'weather-related' flight delays.
Airports are advising passengers to check with their airlines for any expected delays.
Trains
Spain's AVE high-speed railway network hasn't escaped the cold snap either.
Trains between Madrid and Barcelona and Madrid and Sevilla have been forced to slow 160 km/h in some areas, causing "some delays."
And automobiles
On the road network, there are 274 areas have been affected by the snow, including 39 cut-off roads and 119 areas where snow chains are compulsory. Lorries and articulated vehicles have also been banned on 65 roads.
Forecast
AEMET still has alerts in place for snow, rain, cold, rough seas and the risk of landslides across 34 provinces.
Huesca, Zaragoza, Cantabria, Catalonia, Castellon and the Asturias have orange warnings for snowfall.
Cordoba, Granada, Jaen, Teruel, Cuenca, Guadalajara, Castilla y Leon, Madrid, Navarre, La Rioja and the Basque Country have yellow warnings for snow.
El Aeropuerto AS Madrid-Barajas está operando con dos pistas y realizando tareas de limpieza de nieve en las otras dos. https://t.co/xlIWVkvSlU

— Aena (@aena) February 5, 2018
Buenos días ? Por seguridad estamos espaciando más los aterrizajes a #BarcelonaElPrat debido a meteo adversa con tormentas. Consulta el estado de tu vuelo con la aerolínea. https://t.co/Zc4YpoTdm8

— ENAIRE (@ENAIRE) February 5, 2018
? Por condiciones meteorológicas adversas en #Madrid, nuestros vuelos están sufriendo retrasos. @aena #NievaEnMadrid pic.twitter.com/UiRDRqYOJX

— Iberia (@Iberia) February 5, 2018