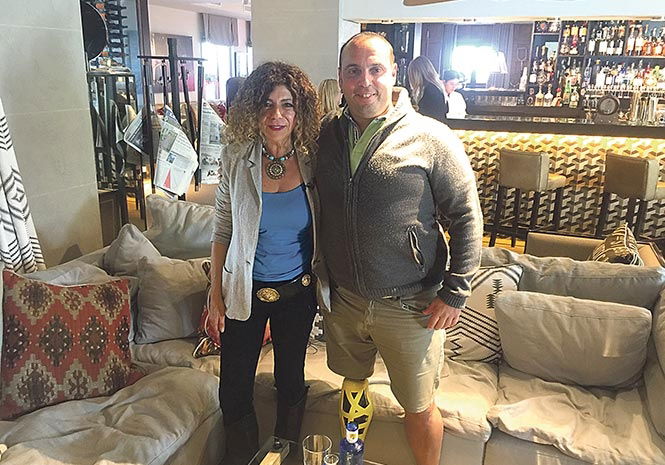 MARBELLA sports councillor, Javier Merida, leads by example, and what an example!
His achievements include being Spanish triathlon champion, European triathlon champion and duathlon world runner.
Javier has devoted his whole working-life to sports. After finishing high school he obtained the title of National Paddle Monitor and began his professional career as an instructor and organiser of matches and other events related to paddle tennis, first in the Puente Romano, and then in Nueva Alcantara, in San Pedro de Alcantara.  He also practised other sports in his spare time, including alpine skiing, motorcycling and football.  
However, in 2007 Javier was in involved in an accident and lost a leg. 
Once again he turned to sport and began to set himself new, greater challenges. He became the first Spaniard with a physical disability to swim the English Channel. He also swam around the island of Manhattan which then qualified him to aspire to the Triple Crown title – the most prestigious international title in open waters, only an option for those individuals who have already completed these other two gruelling swims successfully.  
He was the first amputee to ever achieve this. Last year his goal was to swim what is considered another 'extreme' challenge, the Beagle Channel, between Chile and Argentina, which of course he did.  He has also completed three Oceans Seven channels.
You'd never know any of this by meeting him; he couldn't be more humble and his intentions purer.  He wants to show people that with determination and effort you can do whatever you want. As he says, he's living proof!
Marbella couldn't have found a better sports Councillor and Ambassador for our city and our values; plus he knows Marbella inside out.  He was born here and currently lives in San Pedro de Alcantara. He is married and has three children who go to school here, as did he; so he understands the requirements on a local and international level.
Javier's involvement with the community doesn't stop there; he has also founded a completely free padel school for children with disabilities. (As this foundation relies on donations you might like to contribute: @fundacion.padeladaptado).
Javier may compete alone but he shows us on a daily basis that he is certainly a team player who has not only stood up to the challenges of life, but also that of organising a sports programme for 2018 that ensures Marbella is well ahead of the sports tourism game. 
Quote: 'I try to plant the seed of motivation in my friends and those around me by showing them with proof that where there's a will, there is a way… It's hard to beat someone who never gives up!' – Javier Mérida.
@MarbellaNow
www.marbellanowtv.com