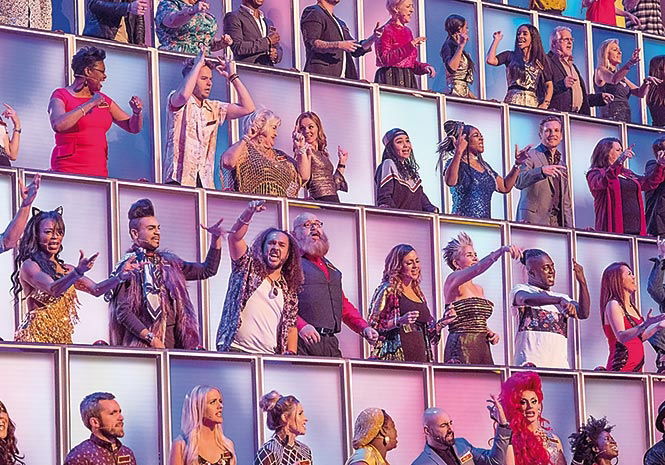 SATURDAY nights can be tricky things. I really don't want to light the fire and curl up to watch TV every week, but the coldish snap last week made me do just that and I started my viewing with All Together Now BBC1 Saturday. 
The format here is relatively simple; you and 99 friends go to your local bar, set up a karaoke machine and ask random people to belt out a tune. If you like the singing you turn a light on and get up to sing along. If you don't like it you try to sit still and look grumpy. 
The BBC have thrown in a former Spice Girl and assorted people from the music industry – you won't know most of them and host Rob Beckett, fresh from the Wedding Day Winners nightmare show with dazzling Lorraine Kelly, gives Ginger Spice the most air time. To be fair so would I. The prize is a chance to win £50,000 in the grand final. 
Two performances stand out from week one. Michael Rice blasted out a brilliant version of Proud Mary by Tina Turner and got all of the 100 up singing along. He will go far in this competition. The other stand out for me was Alex who clearly isn't going very far, achieving a score of 11. The problem was the song choice. Alex can sing, has stage presence and if he ditched the comedy moustache was capable of going further. But he sang Your Song by Sir Elton. This is Saturday night, the panellists are people who have more faith in their own talent than is safe and Alex sang Your Song. What a shame. I loved the social media references to the Muppet Show following the first episode. 
Two Doors Down, BBC2 Monday nights has thankfully returned for a third series. You might remember that I am a fan of this Scottish comedy and not just because I am married to a Glaswegian and recognise some of my in-laws in the characters. The delivery is always on point and Doon MacKichan should get some sort of award from First Minister Sturgeon for her performance as Cathy. She is doing more to get people to visit the glens than Tourism Scotland. 
I need to give a plug to Next of Kin, Monday Night ITV. A brilliant concept, intelligent writing, two wonderful headliners in Archie Panjabi and Jack Davenport and yet ratings are sliding and critics being unkind, but I'm sticking with it. 
Michael Portillo continued his Great American Railroad Journey, (BBC2, weekdays) with a trip through Canada's Quebec province – yes Canada, Great American Railroad, I'm just going with it. We need someone to get Michael to El Corte Ingles to do something about his blazers and pairing red trousers with a green shirt (is that part of the appeal?) but this is a smashing show, with wonderful scenery and informative pieces. Who doesn't want to learn more about maple syrup and Canada's Parliament?
Finally this week, I'm still confused by A House Through Time, (BBC2 Saturday); 62 Falkner Street in Liverpool is a nice Georgian terraced house, in a wonderful city but I just don't get the point of it all. There are much better history telling formats out there and would someone please get David Olusoga a different job, preferably off our screens!