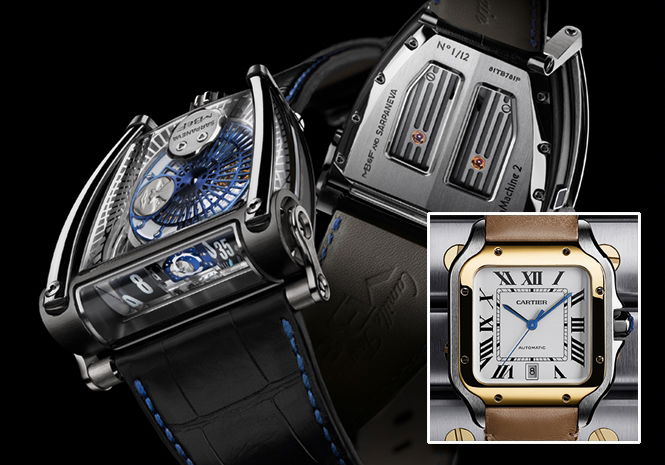 WAIT for one new wristwatch and hundreds turn up at once.
Three distinctive pieces revealed by three distinctive watch manufactures, Cartier, MB&F, and Richard Mille at the SIHH 2018 the annual fine watch exhibition held in the Swiss city of Geneva.
Each year watch manufactures reveal something of what their designers and horologists are developing in their research and development workshops. A new year is an opportunity for designers of extremely small engines to amaze, charm and seduce the fine watch collector.
Cartier; French and founded 171 years ago, a byword for luxury and the luxurious. Creators of unique watches and fabulous jewellery, reveals the up-dated the Santos de Cartier. First created in 1904 through a collaboration between the Brazilian aviation pioneer Alberto Santos-Dumont and Louis Cartier. Santos-Dumont first met Cartier in 1900, in 1901 the aviator complained of his difficulty checking the time on his pocket watch while flying. Three years later Cartier revolutionised watchmaking, inventing the first purpose-designed modern wristwatch for Santos-Dumont.
The updated Santos de Cartier wristwatch is designed to be a perfect fit on the wrist, the design studios updated the wristwatch focusing on comfort, wear and respecting the original aesthetic from the square shape to the eight bezel screws. Sleeker lines unify the innovative strap system and the watch case. The strap system ensures all straps are interchangeable with a 'QuickSwitch' system which dispenses with the need for a tool.
MB&F; Maximilian Busser conceived of a brand and manufacture dedicated to developing radical horological concepts working in small hyper-creative groups. Following a career working for important manufactures – Jaeger LeCoultre and Harry Winston – in 2005 Busser realised his dream and launched MB&F. The MOONMACHINE 2, is offered in three editions each limited to 12 examples, one in full titanium with white gold moons and a light-blue sky, one in blackened titanium with white gold moons and a dark-blue sky, and one in red gold and titanium with red gold moons and an anthracite sky.
Richard Mille; the eponymous Swiss Luxury brand was founded in 1999. Its first creation the RM-001 went on sale in 2001. The RM 53-01 is claimed to be the result of an encounter between Richard Mille and the polo player Pablo Mac Donough. Sporty and dynamic, shock is the enemy of the tourbillon movement, Polo is a sport with impacts. What was the Richard Mille solution? A cable suspended movement! This watch reveals a suspended tourbillon calibre, visible through the laminated sapphire glass of its Carbon TPT® case, a complex armour of an entirely new kind for this high-risk sport and limited to 30 pieces in Carbon TPT.
These exclusive timepieces may be acquired through select networks of dealers and boutiques.
Search them out.
They deserve to be seen, held and worn.
• Nick Horne, Freelance Correspondent, London, England