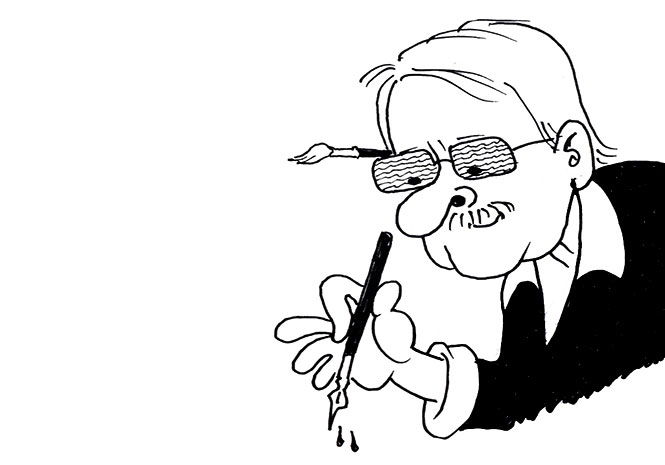 AS he heads towards his 90th birthday, cartoonist and Costa del Sol resident Peter Maddocks has taken time out to reminisce with the Euro Weekly News.
Peter supplies a weekly cartoon on an exclusive basis to the paper as he has retired from commercial illustration and only paints for fun and the excitement of creating a new artistic work.
Having joined the Merchant Navy at the age of 15 in 1943, he not only braved the dangers of war but says that he actually had a great time travelling the world and discovering new experiences and adventures.
This was quite a change for a young man from Birmingham who had first started drawing at the age of six before winning a scholarship at the age of 11 to attend the Moseley School of Art.
With a wicked glint in his eye and a smile on his face, Peter said "My tutor was Norman Pett who drew the risqué Jane cartoon strip for the Daily Mirror which saw the heroine out of her clothes as often as she was in them. There I was drawing daffodils whilst he was drawing naked women in the classroom!"
After swapping the sea for a land-based job, Peter set up his own advertising agency and started designing cinema posters as well as writing Kit Carson stories.
When he was very young, his teacher told him that whilst his art was good, his lettering needed improvement and having studied fonts, he was determined to be involved in lettering the cowboy stories as well.
Whilst he had a love of painting, when he was invited to draw a sample cartoon for the Daily Sketch, his was delighted to be accepted as one of their main contributors and as this was in 1953, he is now celebrating 65 years as a cartoonist.
"I preferred to paint but with cartoons, I could take a thought, transfer it to paper quickly with a pithy comment and get paid almost immediately," he said, explaining why he had never become a commercial artist.
He quickly became much sought after by all of the major newspapers of the time including the Mail, Telegraph, Express and Mirror amongst others as well as Mayfair and Private Eye and eventually became Cartoon Editor for Express Newspapers and regularly produced a satirical look at events in 10 Downing Street.
During that time, he helped to found the British Cartoonists' Association and travelled back to the UK in 2016 to help celebrate its Golden Anniversary.
With two of his three sons (there is also a daughter) he decided to set up an animation studio and attracted interest from the BBC for three cartoon series, The Family-Ness which centred on the life of the Loch Ness Monsters, Jimbo and the Jet Set and Penny Crayon featuring the voice of Su Pollard.
He also worked with legendary animators Halas and Batchelor and spent a number of years working for them in Berlin but admits that this wasn't the best time of his life.
Eventually, after writing a number of self-help books on how to become a cartoonist (plus Condomania, 101 uses for a condom) Peter decided that it was time to come to Spain to follow his love of painting and now nearly 18 years later, he is happily ensconced in a property between Alhaurin El Grande and Coin.
"Having also produced children's books and short stories I no longer produce any commercial work other than my weekly cartoon for Euro Weekly News which I started supplying five years ago.
"My passion is painting and with 200 pictures (that I call my family) around the house all in a range of styles, I am definitely trying to perfect my own although I may have left it a little late" laughed the 89-year-old.
Peter is a pleasure to chat with and confided that he stopped riding his motor scooter just two years ago but was still driving his car on a daily basis although he had been a little surprised with the ice that had formed on his vehicle the other day.
Although have been living by himself in Spain for all of these years, he admits that he struggles with the Spanish language but has developed a perfect arrangement with local shopkeepers saying "If I can't make myself understood, I whip out my drawing pad and produce a picture of what I want to buy. It seems to work pretty well and the people in the shops seem happy to keep the sketches."
Many people living by themselves could be lonely but not Peter Maddocks as he simply loves to paint and as long as he manages to be creative at least once a day then he considers himself a happy man.
He has the gift of being able to follow the news, think up a few funny lines, produce an accompanying image and then invariably change the words to make the cartoon even funnier.
Readers enjoy seeing Peter's work each week in the Time Out section of the six Euro Weekly News editions and we want to thank him for his continued decision to prepare a new and amusing cartoon exclusively for us week in, week out and congratulate him for his 65 years of professional work.
RELATED: Proud to be in the award-winning Euro Weekly News